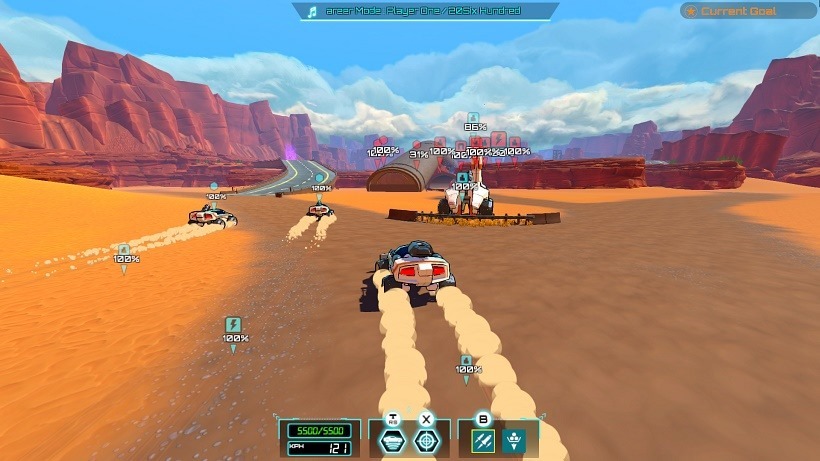 Though I've definitely toned down my addiction, I've still got the softest of spots for MOBAs. It's an addictive genre, and one I can't quite see myself being weaned off entirely, at least not anytime soon.
That being said, I do feel fatigued now and then, and I do feel that this particular market is quite flooded. We've already got the giants, Dota 2, League of Legends, and Heroes of the Storm, accompanied by the likes of SMITE and Heroes of Newerth. They all play similarly, truth be told, yet trying to stand out in that crowd requires some true magic.
That's exactly what I think Auto Age: Standoff has though. I honestly don't know if this upcoming car combat MOBA will be successful, or if it'll stand the test of time, but it does certainly look different, and like a lot of fun to play. Here, take a look see for yourself (via PC Gamer):
In 2080, the future is bright but deadly. America is on the road to recovery after decades of disaster. Militarized motorists keep the peace in the east. Wheeled gangs rule the western wastes. A series of radio relays connects sea to shining sea. A mysterious voice crackles through the static, beckoning travelers into the desert canyons of the Dead Zone. Do you dare answer the call?

Choose your side in head-to-head battles where killer cars assault armed desert base stations. Drive a hero vehicle and assemble a support convoy designed to destroy a desert warlord. Customize and upgrade your vehicles and defenses as you collect precious energy deposits. Choose weapons, augmentations and station enhancements to engage in visceral car combat your way.
How cool? Auto Age: Standoff has something about it that reminds me a lot of Borderlands in terms of the environments, and the driving itself. It also looks nice and retro, and dammit, I can't stop tapping my foot to this song! I'd definitely like to give this game a try.
What about you? Does Auto Age: Standoff appeal to you in any way whatsoever? I've added it to my wishlist, and eagerly await beta access!
Last Updated: April 26, 2016