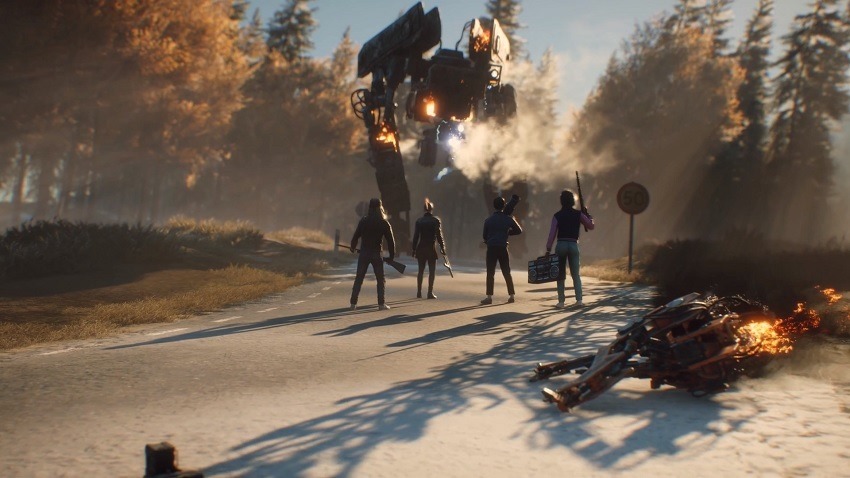 Avalanche Studios, who you might know as the brilliant folks behind Just Cause and Mad Max, is taking a page from developers Ninja Theory. Last year the studio showed that AAA principles could successfully be applied to smaller, polished games. And with self-publishing so alluring now, the third-party contractors are trying that with Generation Zero – a new single-player and co-operative shooter set in an alternate 1980s Sweden. A past where robots are here to take us all.
The debut trailer below has a distinct Terminator vibe to it all, if only for the fact that sentient robot life is out to eradicate all synthetic life from the planet. The rest looks like familiar shooter fare. You'll get access to a range of weaponry and take the fight to the country hills alone or with up to three other friends. Avalanche is saying that this world will be both large and open, but hasn't detailed specifically how that works in the confines of multiplayer. The closest comparison is Left4Dead, but without the segmented episode structure that Valve and Turtle Rock employed there.
What is neat is the persistent damage you can do to robotic foes. As you shoot bits and pieces off the waves of enemies, they'll sometimes scatter and retreat back into the woods. Should you encounter the same on again, the battle scars you left on it will still be visible, giving the world a good sense of persistence. The scale of the project is far smaller than anything Avalanche has done before, with the studio clearly labelling it as an experiment in self-publishing and a studio pet project. That doesn't mean it can't be good though, as Hellblade so clearly showed last year.
Of course Avalanche is busy lately with a couple of other projects too. They were recently revealed as the lead development team behind Bethesda's Rage 2, and the 100% likely Just Cause 4 reveal at E3 next week. With Generation Zero just adding to the lot, Avalanche has some busy hands at the moment.
Last Updated: June 8, 2018