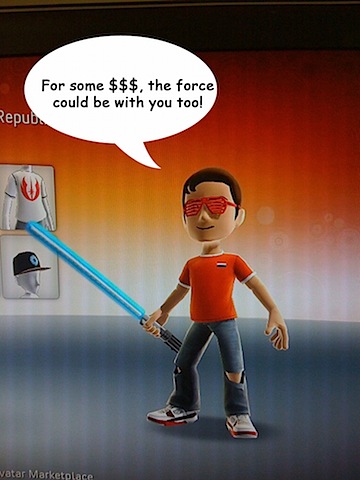 The new Xbox Live/Summer Dashboard update has spurned some serious debates even before it was released. But as you all should have already known by now, the marketplace includes an Avatar Market which allows you to buy some expanded gear for your digital self.
In other words if by some miracle despite the global economic state of the world, you have some extra ZA Rands to burn or singe then here's some cool stuff you can spend it on. So scroll down to check out some cool Star Wars, BioShock 2 and Gears of War 2 apparel you can pimp out your Avatar with.
I have to express my utter dismay at this attempt to squeeze some more cash out of us gamers who love to personalize our gear… but that isn't to say some of these items are pretty cool despite their price.
Star Wars:
Clone Tropper Armor – 400 Microsoft Points (R50)
Clone Trooper Helmet – 160 Microsoft Points (R20)
Clone Trooper Shirt – 80 Microsoft Points (R10)
Jedi Order Shirt – 80 Microsoft Points
Lightsaber – 400 Microsoft Points
Obi-Wan Shirt – 80 Microsoft Points
Obi-Wan Tunic and Armor – 320 Microsoft Points (R40)
Republic Symbol Baseball Cap – 80 Microsoft Points
Republic Symbol Shirt – 80 Microsoft Points
Yoda Shirt – 80 Microsoft Points
Gears of War 2
COG Armor – 320 Microsoft Points
COG Helmet – 160 Microsoft Points
COG Tee – 80 Microsoft Points
Crimson Omen Baseball Cap – 80 Microsoft Points
Crimson Omen Hoodie – 160 Microsoft Points
Crimson Omen Skate Shoes – 160 Microsoft Points
Crimson Omen Skull Cap – 80 Microsoft Points
Crimson Omen Tee – 80 Microsoft Points
Locust "Cyclons" Helmet – 160 Microsoft Points
Locust Drone Armor – 320 Microsoft Points
BioShock 2
Big Daddy Doll – 240 Microsoft Points
BioShock 2 Logo Tee – 80 Microsoft Points
Bouncer Big Daddy Helmet – 160 Microsoft Points
Cult of Rapture Tee – 80 Microsoft Points
Don't Wait – Incinerate! Tee – 80 Microsoft Points
Incinerate Guy Tee – 80 Microsoft Points
Prototype Big Daddy Helmet – 160 Microsoft Points
Prototype Big Daddy Tee – 80 Microsoft Points
Rosie Big Daddy Helmet – 160 Microsoft Points
Splicer Mask Tee – 80 Microsoft Points
Source: endsights
Last Updated: August 12, 2009