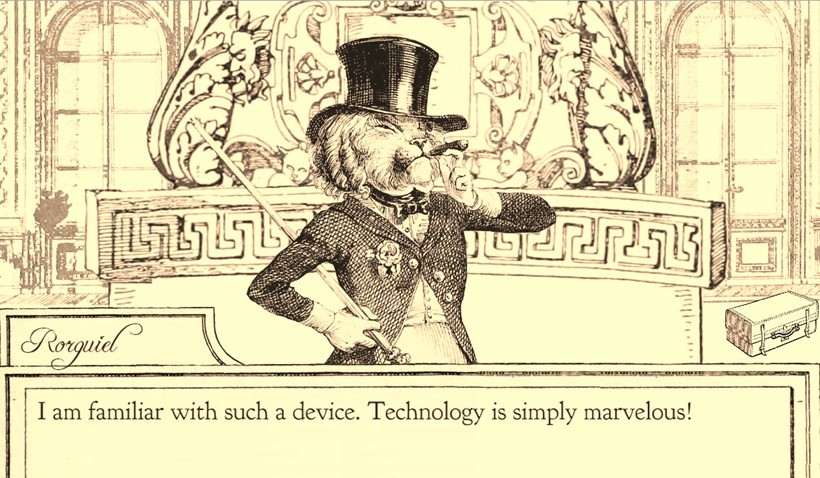 Back in December 2014, Aviary Attorney was looking to get kickstarted. Now, a whole year later, it has been successfully funded, and is on the verge of being released on Steam (via Destructoid).
Forgot what the game was all about? Here's a quick recap for you – a description nabbed straight from the official site:
Aviary Attorney is a dramatic and surreal lawyering adventure game set in 1848 Paris. Through the role of Jayjay Falcon, bird-brained defense attorney, the player must travel around the city, interviewing witnesses and collecting evidence to help prove their client's innocence. In court, the player has to scrutinize witness testimonies and present the gathered evidence at opportune times to win a Not Guilty verdict.

Aviary Attorney has a unique aesthetic thanks to the use of genuine 19th century lithographs for the character art and backgrounds, and the use of French romantic-era music for the soundtrack. The game has effectively been in development for over 170 years!
So essentially, it's one of those lawyer-styled games, but all the characters have been replaced with birds and other animals. It's bizarre, I know, but in a world where Hatoful Boyfriend is a thing, Aviary Attorney doesn't seem so odd at all.
Interested in playing it? You can, on the 18th of December. Here's the official trailer, along with a bunch of features the game includes:
Unique time mechanics. Falcon only has a few days before each trial, so every decision counts. Careless moves may cost the player vital pieces of evidence.
A flexible narrative with branching paths. The game does not end upon a Guilty verdict.
A detailed overview map of Paris with numerous landmarks to be explored.
Dozens of colorful NPCs to interact with, from cafe-running dodos to librarian donkeys.
Four connected cases, with the potential for further cases to be included as bonus chapters in the future.
Authentic 19th century character art provided by French caricaturist J. J. Grandville.
A beautiful soundtrack composed by famous romantic-era composer Camille Saint-Saëns.
There is no South African pricing yet, but Aviary Attorney will be selling at around $10.99. If you're keen to fight in a court of law as a bird, best you set aside R150-200 for when the game launches next Friday. For reasons unknown to me even, I will be adding it to my wishlist when it launches. There's just something about that artstyle that has me intrigued.
Last Updated: December 10, 2015