So you've handed over a large wad of cash to Takealot for your Xbox One X pre-order and now you're waiting with bated breath for Santa Claus to deliver your Xbox One X in time for some great Christmas playtime.
Well, it looks like your Christmas fun is about to be curtailed as Takealot has sent out emails to clients who pre-ordered stating that the delivery won't be happening until at least the 29th of December.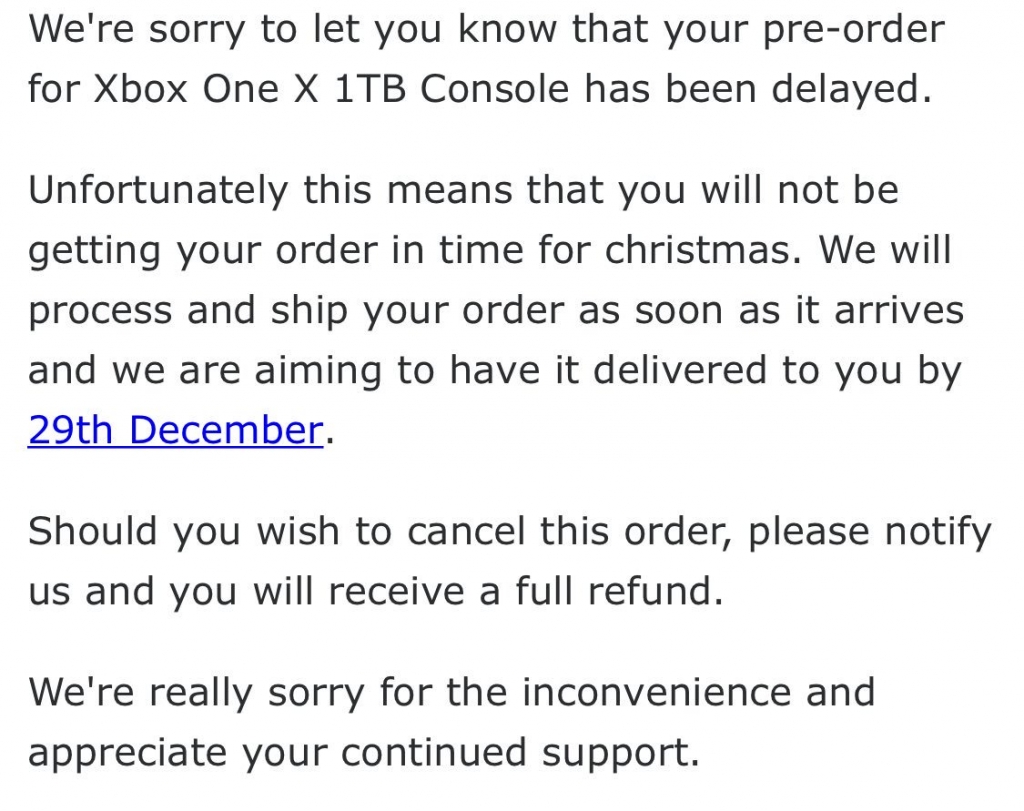 There is no mention of why the order is delayed or how many people are being affected. This image is from the twitter timeline of Craig Nicholson, a previous local Xbox MVP.
Yeah now I'm a reasonable guy when it comes to shipping delays, etc. But @takealot committed two fouls: spelt christmas without a capital C and secondly they didn't even bother with a plausible reason.

— Craig Nicholson (@CraigN) December 18, 2017
This story is unfolding and I"ll add more information as it becomes available.
[Update] We've reached out to Raru and to be honest this isn't looking good. Their response is private for now but it's not positive and their public response can be seen below.
Nope, not yet. We are waiting for final confirmation from the supplier when we will receive our stock, but it's still on track. If not, we will send out an email notification to affected customers.

— Raru (@RaruShopping) December 18, 2017
[Update 2] Glenn Alexander, our current Xbox MVP, has posted about the issue on his
Facebook page
stating that he is 100% sure that the Xbox One X stock has arrived in the country and that any delays would be retailer specific. If this is true it's yet another black mark on Takealot who have been under pressure recently with their false sales, sales of dodgy equipment and generally terrible customer service.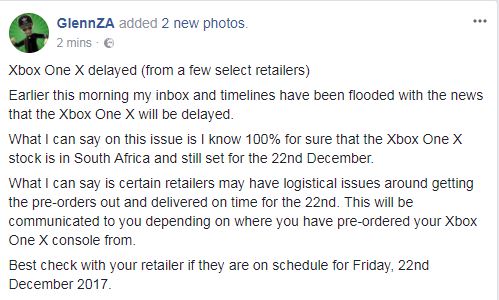 [Update 3] Takealot has sent out a new set of emails and they are now blaming Prima Interactive for the delay in delivery.
We are trying to get an update from Prima but with everyone on leave, this is more difficult than usual.

[Update 4] Some people on Twitter are reporting that their deliveries are on the way and will be delivered on time. The big question is whether all pre-orders will be delivered on time or if they received a limited amount and are just delivering certain orders.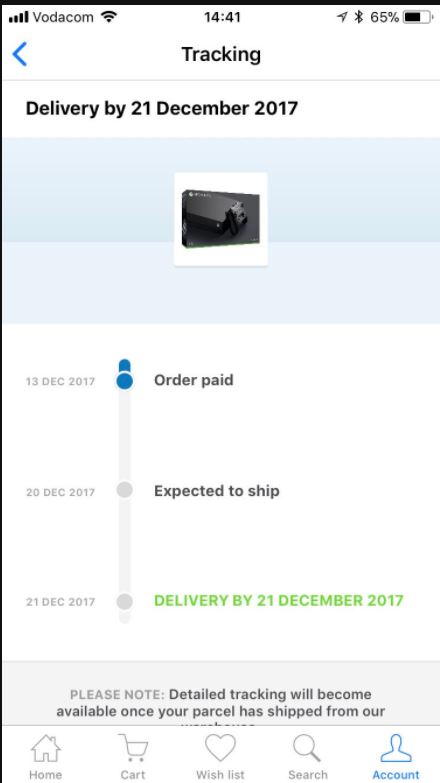 Last Updated: December 19, 2017