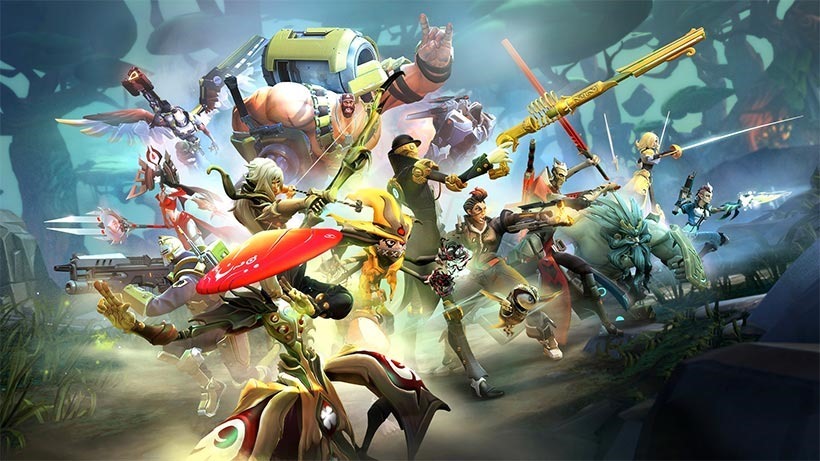 Battleborn is coming! If you're not exactly excited about that, I can't say I blame you. There seems to be a million or so similar games all coming this year – so it's easy for it to get lost in a world that includes Blizzard's impending Overwatch.
It's a game that really should be more exciting than it seems to be so far. It's a co-operative PvE shooter, with some modes that infuse a bit of that moba magic – built on the back of Borderlands. With a roster of interesting characters, along with a bevy of playable modes, Battleborn really should be getting me at least a bit excited.
And yet, it's just not. But that's me! If you are excited for Gearbox and 2K's upcoming shooter, you'll likely be glad to know that the game is getting both free and paid content once it's out.
A blog post by the Battleborn team has outlined both types of content:
Five new playable heroes will release sometime after launch – completely free – for all platforms, bringing the total roster to 30
The first of the five new heroes will be Alani
Additional competitive multiplayer modes, maps, balance updates, and community features will also be released in free updates
Five new add-on packs will release sometime after launch. Each pack will cost £3.99 and include a PvE Story Operation, exclusive skins and taunts
All five packs can be purchased as part of a Season Pass for £15.99
A Digital Deluxe Edition of Battleborn will be available for £62.99 and includes the game plus the Season Pass and additional cosmetic customizations
The first new character is called Alani:
"A member of the Eldrid faction who was raised as a healer, but forced to be a warrior, and is all that remains of her order after Rendain's Jennerit Imperium stole the oceans from her world. As a warrior from a planet with vast seas, Alani's attacks and abilities revolve around her power to control water to dish out pain, or heal her fellow Battleborn. PlayStation 4 players who participate in the upcoming Open Beta will instantly-unlock Alani once she's available after launch."
The game will also play host to cosmetic microtransactions; skins, taunts and other superfluous fluff that people with more money than sense will go bananas for. Its implementation, they say, will help keep the game's meatier post-launch content – heroes, modes and maps – free for all.
"We know that some gamers really love to express themselves through cosmetic customizations that make their heroes stand-out. That's why Battleborn has a huge variety of skins and taunts that come with the game at launch, and we will continue to release even more cosmetic customizations post-launch – some of which we will sell in-game," explains the blog. "This kind of optional cosmetic content has absolutely no effect on the gameplay, and helps us keep all the additional heroes, modes, maps, and other features that extend the core gameplay experience, free for everyone. We're committed to making sure that you have the means to make your favorite heroes truly your own."
I'm not going to turn this in to an Overwatch/Battleborn fight – because the respective developers seem capable of doing that on their own. Maybe you care about neither, maybe you care about both. Do you care, at all about Battleborn?
Battleborn is out on May 3. Incidentally, Overwatch goes in to an open beta just days later.
Last Updated: March 17, 2016