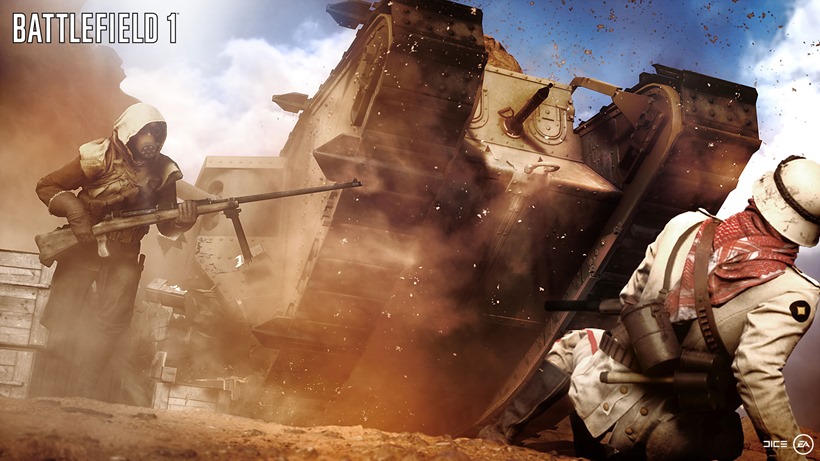 War. War never changes. And neither does the desire for an expensive piece of pre-release kit with which to show off your specific allegiance to a particular video game brand.Battlefield 1 is out in October, and as usual there'll be several flavours of older warfare to get your hands on at retail.
"Be the first on front lines–snag the Early Enlister Deluxe Edition today and get the Hellfighter, Red Baron, and Lawrence of Arabia packs full of themed weapons and gear; five extra Battlepacks stuffed with great items; and access to the full game on October 18, three days before release," said the hyperbolic description on the Battlefield 1 website.
Here's the full list of extras, in neat bullet-point firm. Unlike Biggles, whose aircraft went down behind enemy lines. Blasted Germans and their helmets with the fancy pointy bit that looks so much better than ours.
Early Access on October 18th
Hellfighter Pack
Red Baron Pack
Lawrence of Arabia Pack
5x Battlepacks
And on to the main event. If you fancy dropping an entire $220 on a fancier edition, you're in luck. Because that's exactly how much the Battlefield 1 Collector's Edition will cost, although expect that price to be significantly higher after conversion for our neck of the woods. Here's what's inside of it: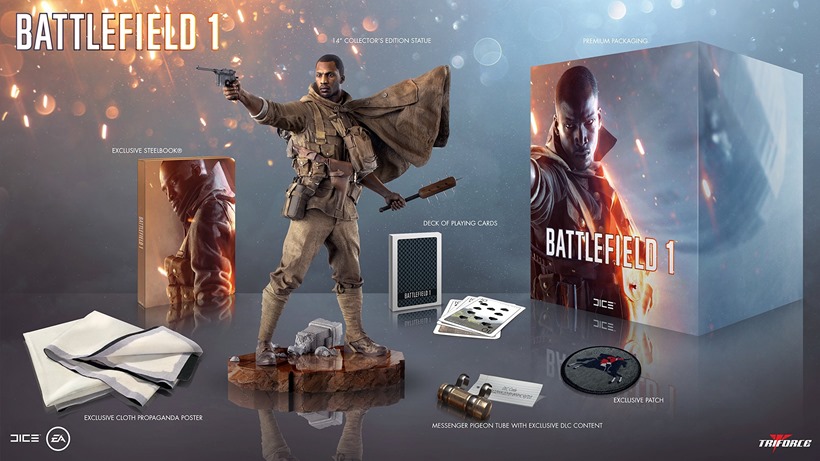 Battlefield 1 Deluxe Edition Game
14 inch tall statue
Exclusive steel book
Exclusive cloth poster
Deck of playing cards
Messenger pigeon tube with exclusive DLC
Exclusive patch
Premium packaging
Gotta have me some of that premium packaging. Battlefield 1 is out in October, and it'll apparently have a single-player campaign that extends across the globe as the horrors of war happen to be completely colour-blind. And that's kind of neat. Meanwhile, I'll be attempting to avoid any needless bloodshed. I'm using an old trick that I picked up in the Sudan, that requires my underwear and two pencils. Wibble.
Last Updated: May 9, 2016