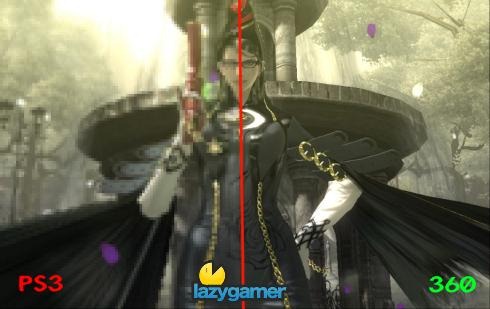 Bayonetta has been released in Japan already and with the first days sales figures coming in we can now see whether the Japanese are going to be loyal to the inferior PS3 version or are going to fork out for the higher quality Xbox 360 version.
Is it all about the gameplay or is pixel count more important?
Well I know I for one can't wait to find out..
*Inflammatory headline – check
*Badly doctored image – check
*Flamebait opening paragraph – check
Okay that should do it you can stop reading now and abuse me in the comments instead.
Or if you were really interested in the actual sales then here they are
Bayonetta – PS3 – 93 000
Bayonetta – 360 – 45 000
In fairness the 360 did better than it should with it's comparatively small install base but that could easily be put down to the fact that there aren't many 360 games out there that appeal to the Japanese so the locals were starved for games recently.
The rest of the sales stats break down as follows
Tekken 6 (PS3) – 79,000
Hikaru no 4 Senshi: Final Fantasy Gaiden (DS) – 85,000
Super Robot Taisen Neo (Wii) – 27,000
Tekken 6 (360) – 22,000
Sin and Punishment 2 (Wii) – 5,600
Grand Theft Auto: Chinatown Wars (DS) – 5,100
Elminage II: Sousei no Megami to Unmei no Daichi (PSP) – 5,100
Umihara Kawase Shun: Second Edition Kanzenhan (DS) – 4,200
Kenka Banchou Portable (PSP) – 2,200
Source: NintendoEverything
Last Updated: October 30, 2009