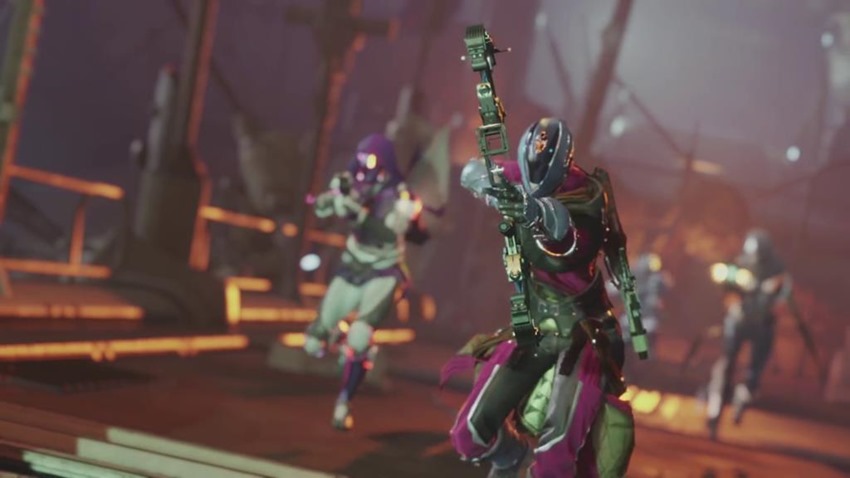 Say what you like about Destiny 2, but there isn't a game on the market today that can touch it when it comes to weapons. The cream of the crop in Destiny 2 are its various Exotics, damage-dealing weapons (and armour!), which have been retuned to be game-breaking death delivery systems that are worth hunting down. Every single one of them feels special, they're ludicrously powerful and they're just downright cool to own.
In Destiny 2: Forsaken, there'll be plenty more of them to add to your arsenal, as a new trailer from Bungie showed off some of the most desirable weapons that Guardians will be after when year 2 of the game kicks off in September:
Two-Tailed Fox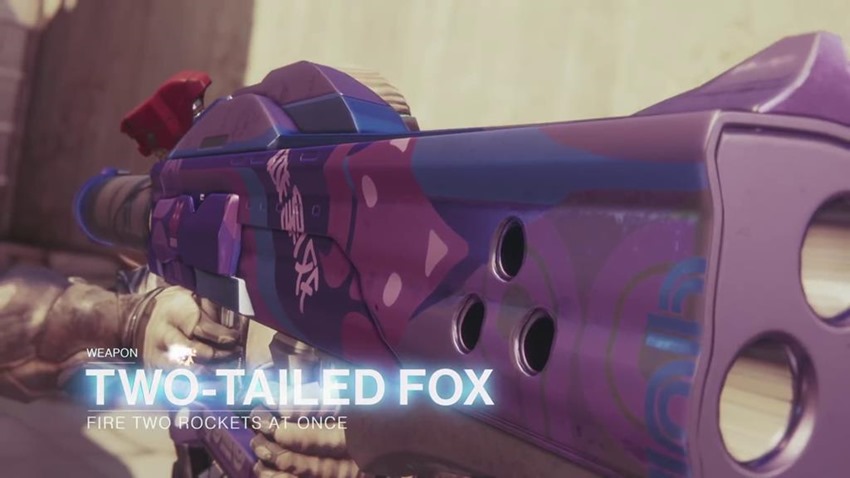 A rocket launcher that fires two rounds off in one shot? That alone is impressive enough (I think Wardcliff Coil's cluster-bomb attack still counts as one shot technically), but throwing in the fact that these rockets are Solar and Void projectiles? This might make it a rugged go-to weapon for certain Heroic Strikes when an element-cycling modifier is in play.
Trinity Ghoul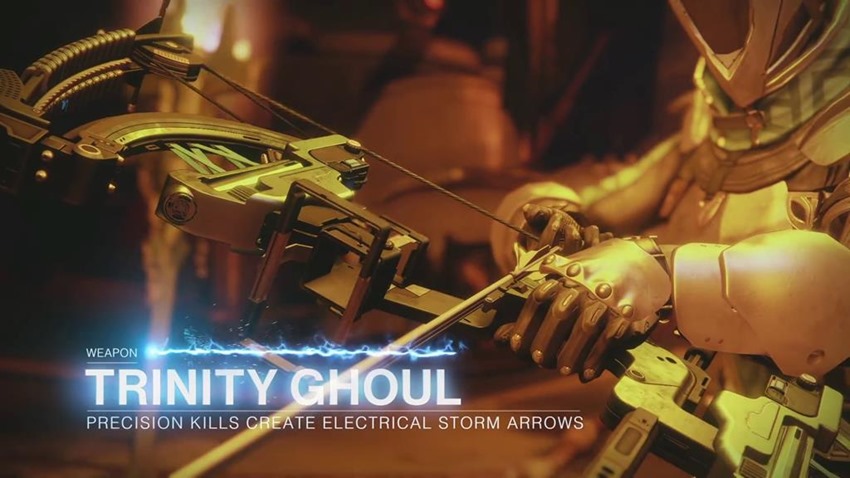 Bows are a weird new weapon in Destiny 2, with their function sitting somewhere between the range of a Scout rifle and the speed of a hand cannon when it comes to firing them off. The Exotic bows will probably be sought after highly in Destiny 2 however, with weapons such as Trinity Ghoul being used to clear mobs of enemies quickly and efficiently hanks to the explosion of chain Arc damage that each precision shot unleashes.
Malfeasance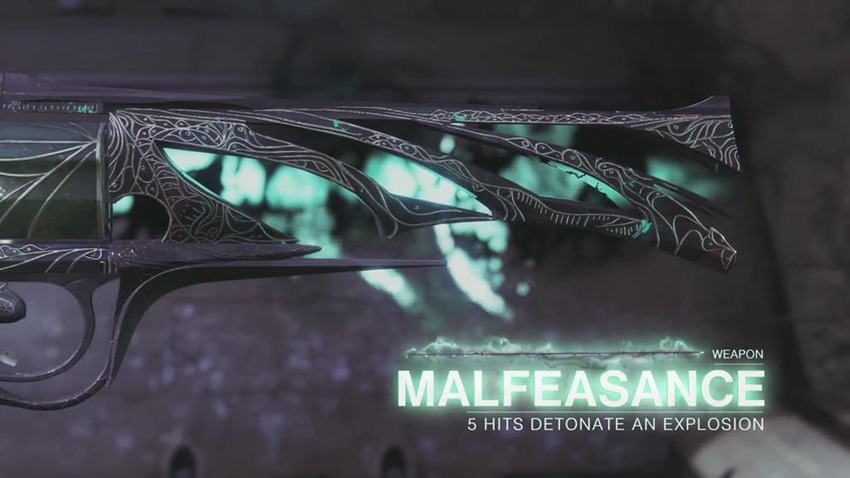 This one kind of reminds me of the Needler from Halo, as you're essentially overloading your opponent with bullets until they explode on the fifth shot. Similar to Warmind's Polaris Lance, but with an even bigger boom delivered.
Black Talon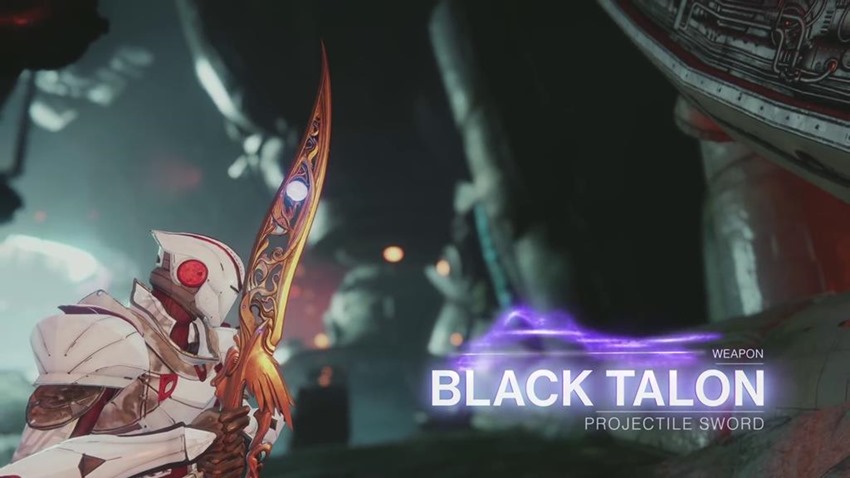 Swords are neat and all in Destiny 2, but their power is double-edged: While they can rip mobs apart at close range, it's the challenge of closing that distance that leaves Guardians open to attack. Black Talon changes that, with a blade that can unleash its own Tensa Zangetsu attack in a glorious arc of damage on any enemies who have tried to retreat to a safer distance. Which should make Black Talon a nightmare in the Crucible.
One Thousand Voices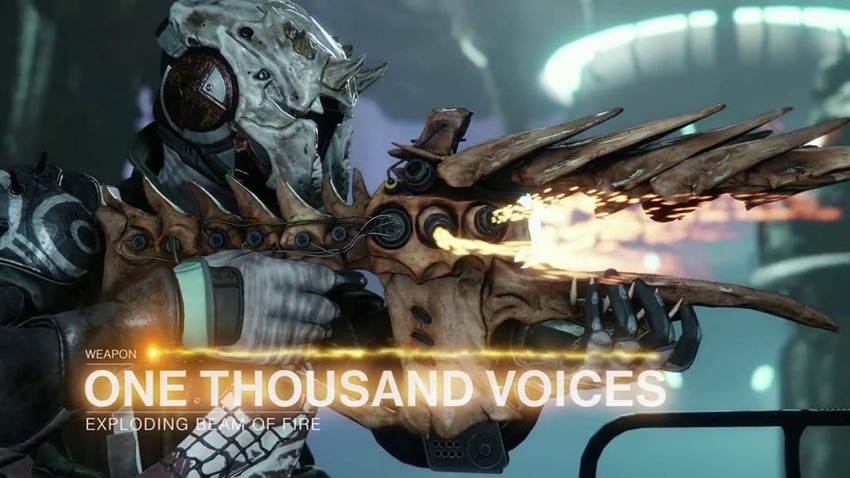 We've only had a duo of Trace Rifles in Destiny 2 so far, in the form of Coldheart and Prometheus Lens. That pair is about to become a trio, as One Thousand Voices joins the family and unleashes a torrent of explosive solar energy that happens to be housed in a frame which looks like it was lifted off the corpse of a Scorn leader. It's like owning your own pet dragon, by the sound of things.
Wish-Ender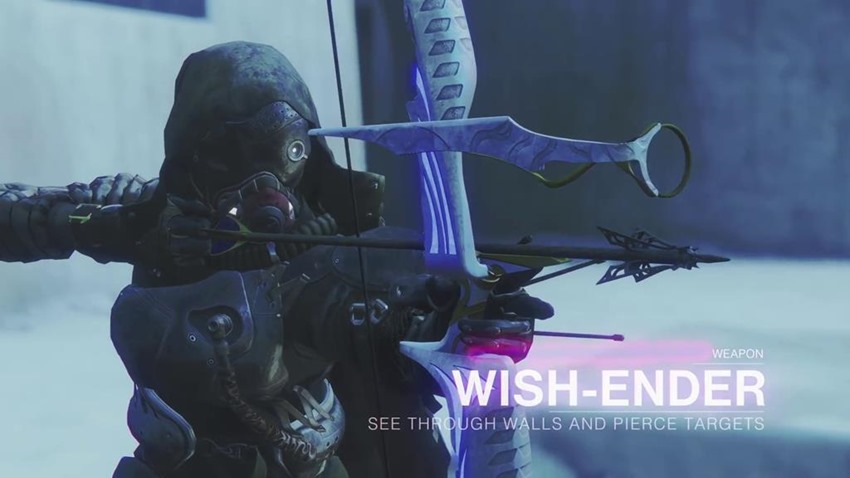 I've got a feeling that MIDA Multi-Tool is about to be challenged for the top spot in the Trials of the Nine as the most favoured weapon to use. It's a bow that appears to be designed specifically for Crucible action, as Wish-Ender's ability to see through walls and highlight enemies is also bolstered by a perk that allows it to pierce targets. Situational for sure, but when it hits it hits like a freight train!
Antaeus Wards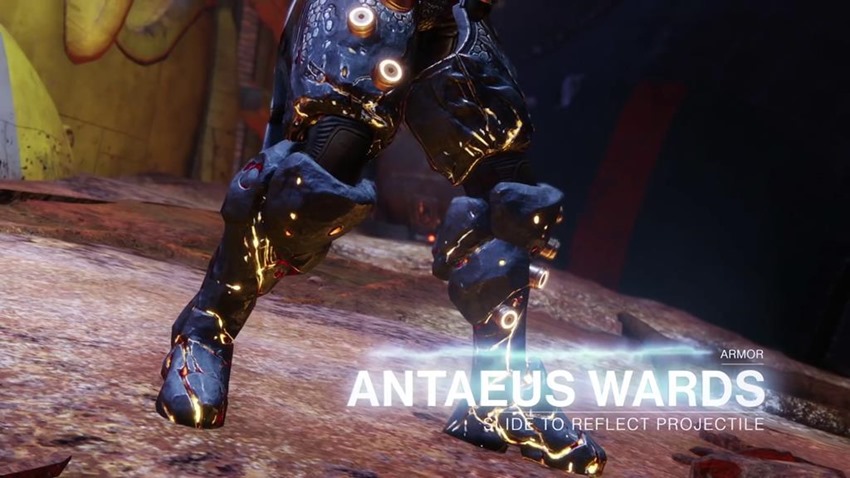 Speaking of situational, Destiny 2 may have just mastered attack-pants. The idea behind Antaeus Wards is easy enough: Sprint, generate a field and slide into a rocket that you can reflect back at the Guardian who fired it at you. It's going to require some incredible timing to pull off in the Crucible, but fortunately there's an entire solar system of trigger-happy goons to practice on in Destiny 2's PVE.
Sixth Coyote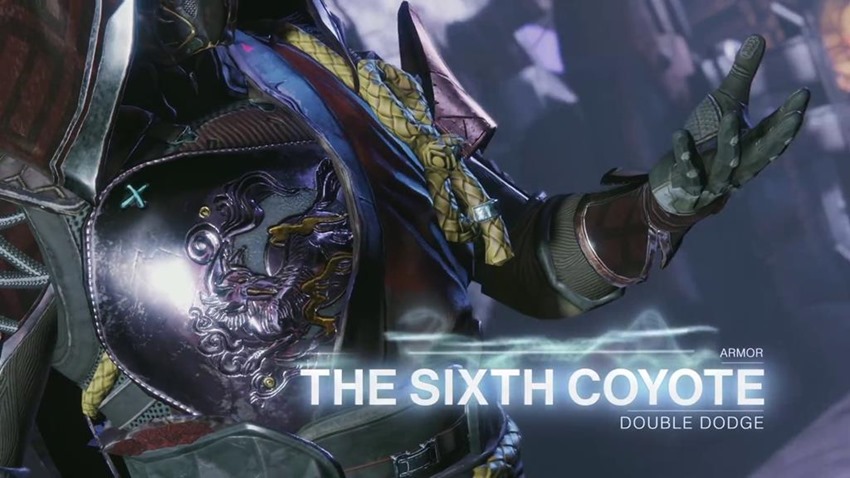 Titans have barriers, Warlocks have healing/enhancement rifts. What do Hunters have as an extra skill? A good ol' fashioned dodge that Picollo would be proud of, that makes them a more agile menace out in the wilds. With Sixth Coyote, Hunters now get an extra dodge that'll make them even harder to pin down. Should be very useful in the Crucible as well.
Chromatic Fire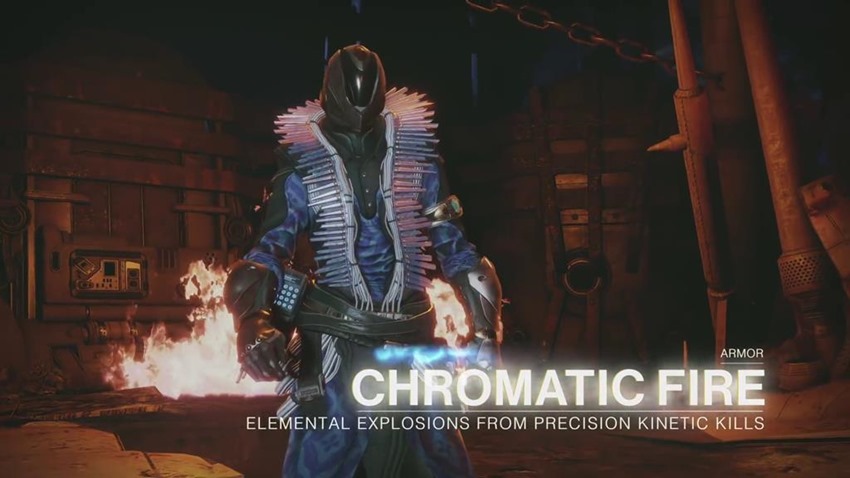 For the Warlock wanting to look so hot this fashion season, there's Chromatic Fire.  This one is pretty neat, as it allows elemental explosions from Kinetic weapons. The only one of its kind, this armour looks like it'll be capable of some bonkers damage when combined with the right weapons. I'm already picturing Better Devils taking advantage of this with double explosions, and then switching to Graviton Lance when the magazine is empty so that the explosion train can keep on chugging along. It's going to be beautiful.
Ace of Spades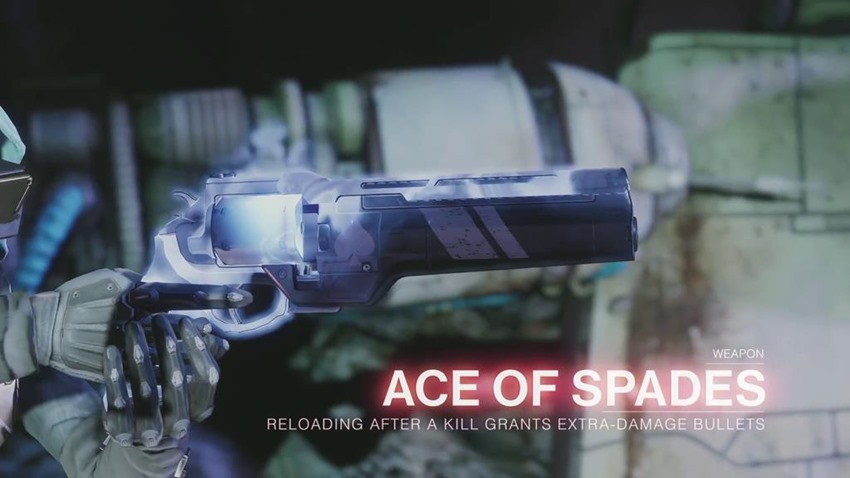 Last up on the trailer is the signature hand cannon of Cayde-6. The weapon that delivered the finishing blow to the legendary Hunter at the hands of Prince Uldren, Ace of Spades will likely be a reward for completing Forsaken's story and taking down Uldren. Similar to the OG version of the weapon, Forsaken's Ace of Spades delivers extra damage on a reload, with the actual act of chucking in fresh bullets being a quick reload that keeps applying lead pressure at terminal velocity to the faces of your enemies. Neat.
That's it for the Exotics that we know of in Destiny 2: Forsaken. There'll obviously be more to hunt down in the weeks to come, when Forsaken launches on September 4. Hopefully, we'll see an old favourite return to upset the balance of the sandbox. Anyone up for an even more bastard version of Thorn perhaps?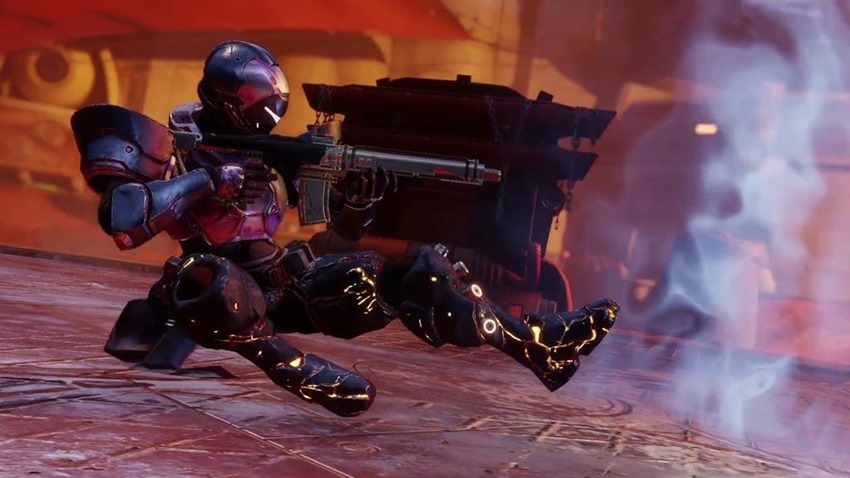 Last Updated: July 27, 2018