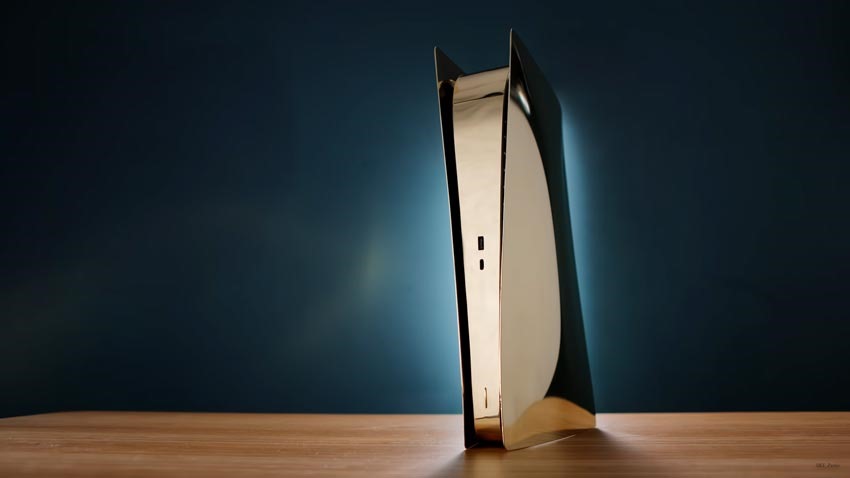 The beauty of the PS5 is that once it has been propped up in your entertainment area, it absolutely looks like a next-gen device. Provided of course, if you can even find one in the first place that hasn't been scalped for the price of an entire Bitcoin.
All those sleek curves and a touch of angular design makes the PS5 look like a fusion of everything that came before it, but could it be made to look even sexier? Yes, yes it could. YouTuber DIY Perks got their hands on the wonderfully symmetrical PS5 Digital Edition (the one that comes wothout a disc drive baby bump) and set to work removing the boring plastic bits, replacing them with a more exotic material: Brass.
Didn't you know? Plastic is so 2020, rare metal replacement parts are all the rage now. Thanks to brass being a malleable and relatively inexpensive material—compared to one British retailer who currently stocks a I-crap-thee-not solid gold PS5—DIY Perks was able to shape and form the metal into an accurate shape that perfectly replicated the original plastic parts.
The end result is simply…stunning. With a caveat of course, as the wifi hardware had to be moved to outside the console for it to work outside of the makeshift Faraday cage that DIY Perks had created in the process. Beyond that slight modification, the brass PS5 looks like a work of art, a museum-ready celebration of gaming style and substance.
And one that can also play Ghost of Tsushima, Demon's Souls, and Miles Morales: Spider-Man. Let's see Marcel Duchump's conceptual art nonsense top that.
Last Updated: March 29, 2021