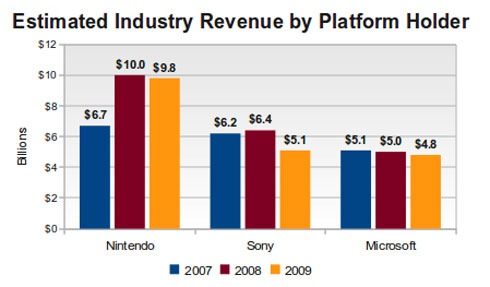 We've seen all 3 console manufacturers sales figures, but let's take a closer look at their year-on-year revenues, based on console and software sales figures. slightly alarming is that despite good sales on each platform, all 3 console makers saw a significant drop in revenue in 2009.
Both Microsoft and Nintendo seem to have suffered a loss in revenue – to the tune of about $200M -based on a lower console selling price, because they each sold more units than the year previous. Most alarming though was Sony's $1.3 Billion drop in revenue over the previous year.
This is mostly due to the Playstation 2 becoming largely obsolete, and PS2 software revenues to the tune of an estimated $700 million no longer being applicable. With the PSP platform in decline – with regards to both hardware and software – the PS3 is doing pretty well and is now Sony's primary earner, but the reduction in PS2 and PSP sales has overshadowed that triumph.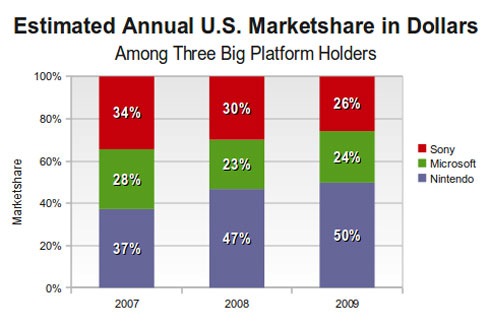 With regards to marketshare, Nintendo are unstoppable – now account for a full 50% of the video game console and handheld market, with both Sony and Microsoft having lost significant marketshare over the past two years. From this, one thing is clear; It's time for Sony and Microsoft fanboys to put aside their differences and attack the real enemy – Nintendo. Oh, and PC gamers. The smug bastards.
Read more of the analysis over at Gamasutra
Last Updated: January 19, 2010