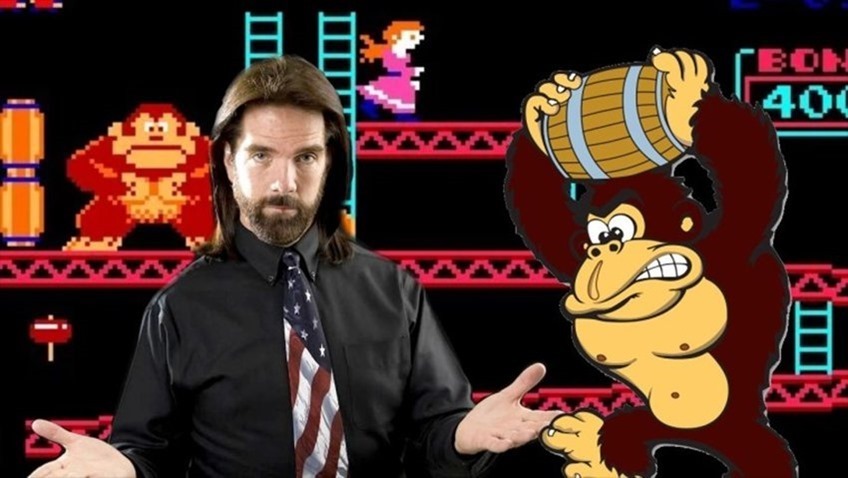 When it comes to competition, there's no scene out there more heated than the world of Donkey Kong. Only one man can be the king of Kong, and that fella ain't Billy Mitchell. The infamous bearded face behind hot sauces and a former world record holder in the scene, Mitchell was stripped of his title and accomplishments last year when high score record keepers Twin Galaxies decided that something fishy was going on with how he'd racked up so many points in the arcade classic:
With this ruling, Twin Galaxies can no longer recognize Billy Mitchell as the first million point 'Donkey Kong' record holder," Twin Galaxies said in a statement. "According to our findings, Steve Wiebe would be the official 1st million point record holder.
According to Twin Galaxies Donkey Kong Forum moderator Jeremy Young, Mitchell's use of the MAME emulator was illegal, as only proper and original arcade hardware would be eligible for setting world records:
The rules for submitting scores for the original arcade "Donkey Kong" competitive leaderboards requires the use of original arcade hardware only," says Twin Galaxies. "The use of MAME or any other emulation software for submission to these leaderboards is strictly forbidden.
More than a year later, Mitchell has struck back at Twin Galaxies and their axing of his high scores in Donkey Kong and Pac-man, with the bearded wonder demanding that Twin Galaxies retract previous statements about him and reinstate his world record achievements or face the wrath of legal action being taken against them. Mitchell claims that because of Twin Galaxies, the Guinness World Records body stripped him of his achievement without doing any research into his accomplishments (Cheers, ResetEra):
It is important to note that Guinness World Records never conducted an investigation into Billy Mitchell's Pac-Man records. As a matter of fact, there is no evidence to support Guinness World Records' assertion that Mitchell's Pac-Man scores "NEVER WERE," or were "obtained while using MAME." Lastly, there is certainly no evidence to support the claim that all his "submitted scores," from 1982 to 2018, were achieved while using MAME. This is especially ridiculous considering MAME was created in 1997, and the majority of Mitchell's scores occur in the 1980's.

In addition, Walter Day, founder and owner of Twin Galaxies from 1981 to 2014, stands behind Billy Mitchell. Mr. Day, not the current Twin Galaxies administration, is the original adjudication source of Billy Mitchell's records. In line with Guinness World Records' words to Variety (see the earlier quote), the linked evidence package that accompanies this letter and Day's testimony warrants restoration of Billy Mitchell's achievements and legacy. Day's own letter is included in this demand for retraction, which includes his sworn testimony and advice for Guinness World Records.

As to Twin Galaxies, its investigation did not provide Billy Mitchell fair opportunity to provide evidence to prove his innocence. Throughout the investigation, Twin Galaxies had a double standard. Specific evidence against Mitchell was accepted, while evidence of equal stature was rejected. Further, Twin Galaxies selected a biased third party investigator with close ties to Donkey Kong Forum, another group defaming Billy Mitchell.

This investigator was openly inflammatory throughout the investigation, and expressed his support of score removal on the very first day of the dispute; there was nothing unbiased about him. This, along with other examples, displays a substantial level of constitutional malice.
There are two sides to this story. While it was proven that Mitchell cheated at Donkey Kong according to Twin Galaxies and their research, his perfect Pac-Man run does seem to be legitimate. You can understand Twin Galaxies removing his Donkey Kong accomplishments, but it does sound like he has a legal leg to stand on regarding Pac-Man as there exists no proof of him having cheated in that game and thus he did earn his high score there.
Having all scores removed without prejudice is the legal battle here, and while you could argue that integrity plays a large part concerning the validity of obtaining such high scores, the onus of proof needs to be established as well.  Guinness World Records, on the other hand, operated on Twin Galaxies as their primary verifiable source, thus them following suit and stripping Mitchell of past accomplishments.
Look, it's a messy story and it's probably going to be hilarious to hear a bailiff telling a room to rise for the judge presiding over a case of Donkey Kong and Pac-Man. Mitchell may have a leg to stand on here, especially considering how his last court case against the makers of Cartoon Network's Regular Show saw him lose a defamation case in grand fashion.
Last Updated: September 12, 2019