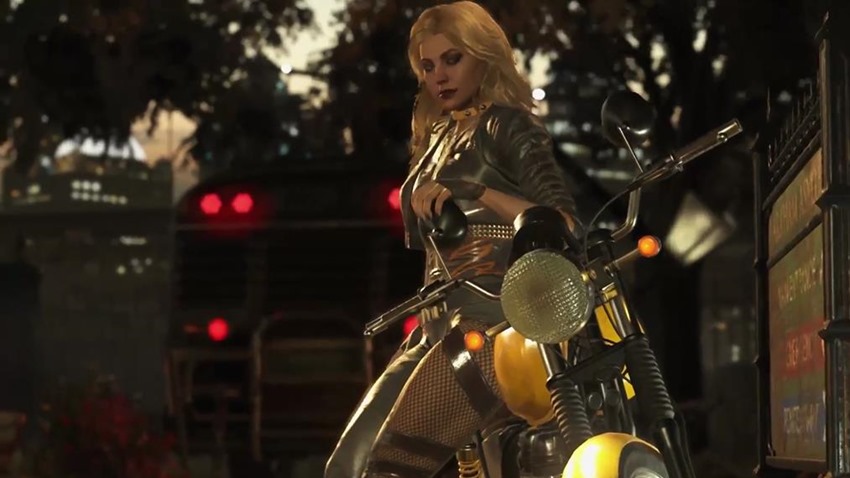 When it comes to pure skill, there aren't many people around who can match the Batman when it comes to martial arts and pure fighting prowess. Deathstroke, Lady Shiva and Bronze Tiger have taken the dark knight to the limit in a display of power, as has the Black Canary. A metahuman who can unleash a supersonic scream that she call's the "canary cry", Laurel Lance can leave your ears bleeding worse than ringside seats between tweens for a band performance of insert hip and trendy new group here.
The catch here however? Lance hardly ever uses that ability, relying on fists and feet instead. She's just that damn good at kicking ass, that she doesn't need her powers. And she'll be doing plenty of boot-to-ass techniques in Injustice 2. Here's the first look at her in action in developer NetherRealm's upcoming superhero brawler that makes Marvel's Civil War look more like a civil dispute:
If you never played the first Injustice, then the gist of that gameplay is that it felt like a combination of Street Fighter and Mortal Kombat mechanics. Black Canary looks like the closest we'll get however to seeing more traditional Mortal Kombat gameplay in Injustice 2, judging by her dial-a-combo gameplay so far. Which sounds like it'll make her a complete nightmare to deal with when facing anyone who favours an up close and personal approach.
Which also means that I may have just found my character to help me deal with the presumed bullet-spam factories that I assume Deadshot players will use online. In addition to Black Canary, NetherRealm also updated the Injustice 2 profiles for previously glimpsed characters Bane, Poison Ivy, Brainiac and Robin. Take a read below yo:
Bane
After Superman's defeat, Bane was betrayed by the Regime and relentlessly pursued by Batman. Having already spent most of his life in prison, he his determined to take revenge against his former Regime masters and turn Gotham into a city where his rule is law.
Brainiac
Brainiac is a megalomaniacal genius who roams the universe, collecting knowledge to increase his intellectual and scientific prowess. Obsessed with establishing his superiority, Brainiac captured Krypton's greatest cities, then eradicated what remained…or so he thought. Tales of the "Last Son of Krypton" have reached far into the stars. Now, the Collector of Worlds comes to Earth to finish his accumulation of Krypton–and discovers a new world worthy of his collection.
Poison Ivy
Dr. Pamela Isley was once an innovative, radical botanical biochemist with a singular goal: make the world safe for plant life to flourish. She joins the Society to further their common interest in bringing mankind to its knees, but at heart, Ivy's desire is to ensure that in any new world order, flora dominates fauna.
Robin
Raised from birth by the League of Assassins, Damian Wayne has always struggled with Batman's non-lethal code of honor. Now in direct opposition with his father, Damian seeks a new mentor in Superman–whom he considers to be more of a father than Batman ever was.
Injustice 2 is out on May 16.
Last Updated: February 3, 2017