I've always wondered how beneficial those co-marketing deals between game publishers and platforms holders can be. For a long time, Call of Duty was associated with the Xbox brand. The newest Call of Duty was always shown at Microsoft's E3 event, and each game's DLC had a month of timed Xbox exclusivity.
That changed, and now Activision is in bed with Sony as their Call of Duty co-marketing partner. It's probably been beneficial for the both of them. According to Activision's latest financial reports, during the first quarter of this year, 85% of the PlayStation 4's sold in 2016 so far were sold alongside Call of Duty: Black Ops 3. That's a pretty staggering attach rate – even if it's a number that's been ascertained through some creative accounting.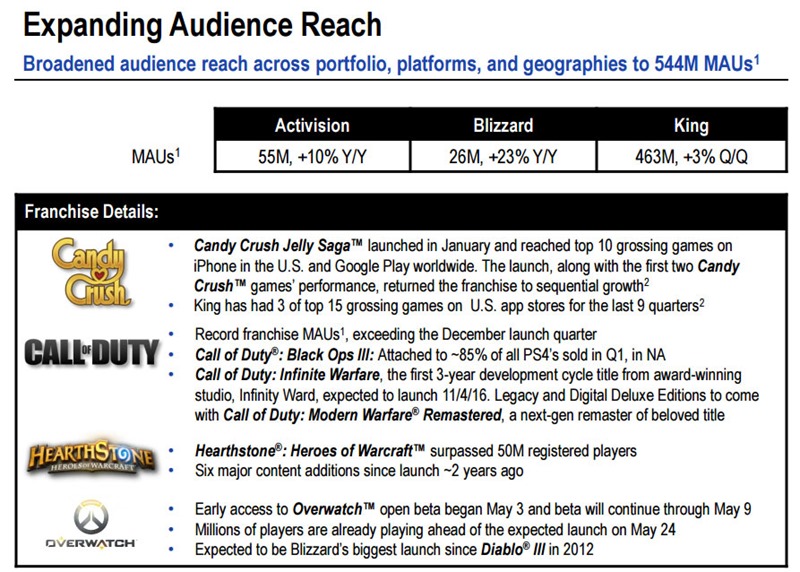 People keep wondering if Call of Duty is still relevant, and if the game still has any sort of mainstream draw – and it's easy to see that yes, yes it does. For years now, Call of Duty has been the biggest gaming behemoth on the planet, and it's a status quo that doesn't seem to be changing – despite protestation from what's essentially a vocal (if passive aggressive) minority.
We told you yesterday that dissenters were protesting by disliking a YouTube video because this is the internet, and people need to show their dissatisfaction whoever they can. That sort of lopsided sentiment isn't something that Activision is particularly worried about.
During an earnings call, Activision publishing CEO Eric Hirshberg issued a statement about that campaign, saying he's not too worried.
"First of all, you gotta love the passion of gamers. This is an industry like no other and a fan base like no other. We love that our fans treat this franchise like their own and have such strong points of view about it. There just aren't many entertainment franchises on earth that can generate the kind of passion that Call of Duty can… and that's a good thing.

Secondly, of course, we know there are people in our community who are nostalgic for the boots on the ground-style gameplay; that's why we made Modern Warfare Remastered. But we also have millions of people in our community who want to have new innovative experiences in the game each year and Infinite Warfare is going to deliver that.

The good news is this year we found a way to deliver both in one package while keeping our community together. While of course we see the passionate opinions on line, we also look at other measurements and the fact is — while it's very early — pre-orders are off to a very strong start. Views of the reveal trailer … are up and, in fact, the number of likes per view on the Infinite Warfare trailer are the highest we've ever seen.

We've seen this in the franchise before. The reveal trailer for Black Ops 2, which took the franchise into the future for the first time, had the most dislikes of any reveal trailer we had ever made at that time. And that went on to become our most successful game ever.

Right now, the franchise has never been stronger. We have more people playing Black Ops 3, a game that takes place in the future, with boost jumps and fictitious weapons, than any game in our history.
What we know for sure is that if we always just did what worked in the past and never took any creative risks, we wouldn't have a franchise. The day to worry is the day we stop trying new things."
While the public perception is that Call of Duty is a simple copy and paste affair, I can't imagine it's an easy cycle for the trio of developers behind it, all having to juggle their ideas and trying to do new things while keeping the core of the series intact. Fact is you can't please everyone, and even trying to do so must be a struggle.
Last Updated: May 6, 2016