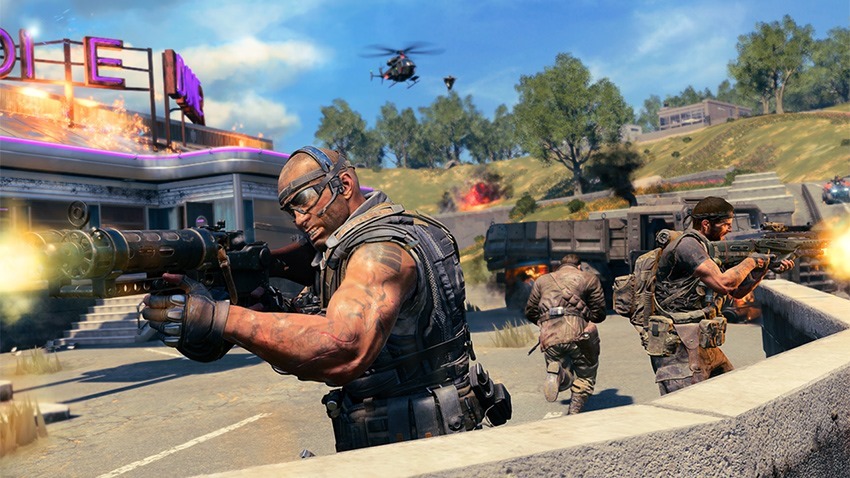 The Call of Duty: Black Ops 4 Blackout beta is now over, and the general consensus among those who played it is that it's a highly enjoyable, polished Battle Royale that's fast, smooth and slick. It's not without its problems though, with most complaints pointing at the game's armour system and weapon pickups. That, of course, is what betas are for (besides being marketing opportunities, of course). Treyarch has taken the feedback from the beta and will be making several changes to the mode before the game's release next month.
One of the biggest changes is the player cap, which was raised to 100 players in the final hours of the beta. While we didn't get to try it with that number, reports suggest the game was as smooth as its ever been even with the expanded player cap.
As for the armour, here's how armour has changed (and will continue to change) since the beta rolled out.
Spawn frequency of Level 3 Armor has been reduced by 75% compared to its initial spawn rate in the Beta.
Level 3 Armor will now most frequently be found in Stashes and Supply Drops, though it may occasionally spawn in the world.
Level 3 Armor now breaks sooner and passes more damage to the player wearing it, and still offers headshot and other types of damage mitigation. We've heard your concerns that Level 3 Armor was still perhaps too powerful by the end of the Beta, and will be evaluating the data to see what other tweaks may be required.
Level 2 Armor was also minorly adjusted during the Beta and will potentially be tweaked further in time for launch.
Players will see an indicator of the condition of their own Armor, and those of their teammates, in the HUD. This provides a more granular indicator of the damage that your Armor has taken beyond the Armor icon and will let you know if it's time to seek out a replacement.
There were also complaint's about the game's audio, with some elements not quite hitting the notes that plyers expected.
Sounds will be properly impacted by walls, floors, ceilings, and other objects in the world. This means enemies directly above or below the player should no longer sound louder than expected.
The volume of the cargo plane, punching, game countdown timers, and everything else you've brought to our attention (and many things you have not) will be reviewed in-depth as part of that process. The game has not yet had its final audio mix.
Teammates' footsteps will be quieter compared to enemy footsteps.
The Awareness Perk will further reduce the loudness of the footsteps of your teammates.
All audio presets will be available at launch in the Options menu. Audio presets can make a big difference, and we offer many choices for those who play with headphones or surround sound.
The game will also be getting other quality of life improvements, including the much requested option for quick item pickups. In the same reddit post, Treyarch also released a few fun (though unofficial) stats.
Players eradicated 7.5 million Zombies. Don't worry, there's plenty more where those came from.
Squadmates were revived 26 million times. Thanks for being team players.
3.3 billion Items were picked up. That's "billion" with a B.
Over 64 million Stashes were spawned. That's a lot of loot.
The longest Combat Axe kill distance was 213 meters, or about 698 feet. Well done!
Players managed to eliminate 123 people with a basketball. Is ball still life?
Most kills by an individual player:
Solos: 25
Duos: 29
Quads: 25
Most kills by a team:
Black Ops 4 and its Blackout Battle Royale mode will be out on October 12.
Last Updated: September 18, 2018