Blizzard recently released a teaser to their new Overwatch map, set to be released in the upcoming weeks. While we're all excited for a new game mode, set in a beautiful new surrounding, there are a number of things we may not have caught at first glance when watching the preview last night. Blizzcon is around the corner and Blizzard have been hinting at a couple of updates coming to their titles. Were they hidden in this release? Possibly, but let's take a closer look.
Many of us are expecting a Diablo announcement this year at Blizzcon. Sorry, let me rephrase that. Many of us are hoping for a Diablo announcement at Blizzcon this year, and it's likely we might get just that. But are Blizzard hinting at it in the release of Eichenwalde? One can only hope. We know how sneaky they are.
Diablo's horns
The first thing that struck me was the camera pan over the trophies on the wall. One of them looked perculiar and unlike any animal we would expect see in the world of Overwatch. Is this… can this be Diablo's head?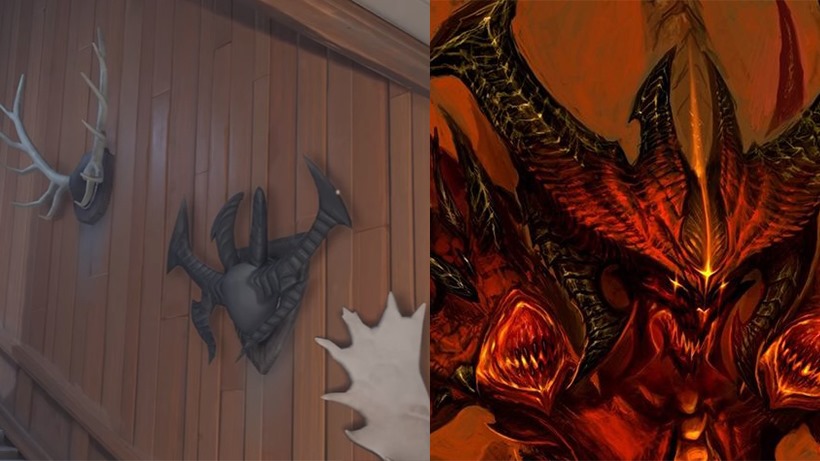 Why would they include this? These are Diablo's horns, and I doubt any German soldier,despite wearing heavy armour, could take down the Lord of Hell. This is perhaps our first hint at something big arriving at Blizzcon this year, but that's not the only Easter Egg offered in this preview.
Baldrich van Alder, the Skeleton King
Near the end of the preview the camera pans over Baldrich van Alder, the King of Eichenwalde, who fell during the omnic crisis. Here his body lays, still in armour, the skeleton of the King. This looks oddly familiar, no?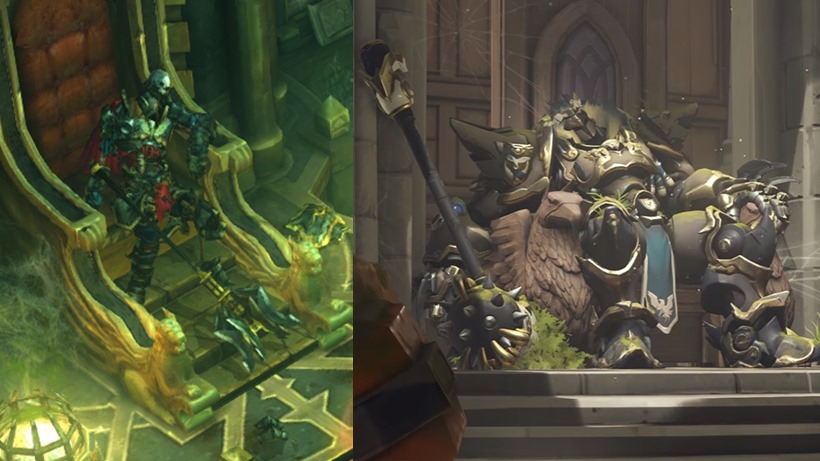 On the left in the image above you see Leoric, the Skeleton King, who was corrupted and in turn defeated as you stormed the Cathedral in Diablo 3. Baldrich's position in his eternal slumber is an almost exact mirror of the Skeleton King, another Easter Egg which cannot be ignored. There's also the new Reinhardt voice note which was datamined in the recent patch. He says "This is no castle… it's is a tomb," perhaps a little too similar to the Crypt of the Skeleton King?
So far these are the only two hints I discovered in the new Overwatch map,while other's are digging for Sombra clues. Perhaps I'm too invested in the dream that a Diablo expansion is coming and reading into it a little too much. Either way, it's fantastic how Blizzard pay respect to their titles in the form of Easter Eggs.
Last Updated: August 17, 2016