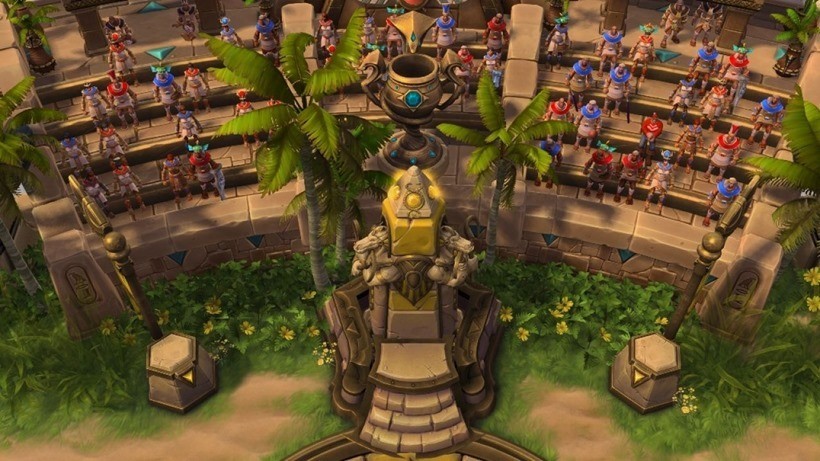 Despite what anyone might say about it, Heroes of the Storm is still going incredibly strong thanks to Blizzard's great support for their MOBA. It's easy to call it causal, but Heroes of the Storm is an engrossing multiplayer game that has really become better with time, and it's looking to keep that going with a host of new content that Blizzard announced for it at BlizzCon last night.
As you know certain Battlegrounds in the MOBA change rules up a little – sometimes subverting the way win conditions (and how they are achieved) are set. That's the premise for Towers of Doom, a new Battleground that features both the Raven Lord and Grave Keeper in a battle of point control. As players claim Alters, the team's controlled Bell Towers will fire on the Core – instead of players attacking the core directly.
The twist here is in the allegiance of the Bell Towers themselves, who will turn on their allies at a moments notice when they are eventually destroyed. You can check it out below.
It's an interesting map, but it's somewhat overshadowed by the most exciting addition to Heroes of the Storm yet. Blizzard has introduced Arena Battlegrounds, which will keep teams on their toes as the ground beneath them is shifted drastically between matches. Here teams battle in a best of three competition, with the rules and setting of each game changing with each round.
Teams will select from a pool of three random Heroes at the start of the match, kit them out with abilities and then be locked into their choice for the three games. Each Arena has its own set of rules, but the staple "destroy the enemy core" still remains the main objective. Still, adaptation is the aim of the game here, and it looks incredibly fun.
Also joining the growing roster are four new Heroes. Lunara is a brand new Dryads Assassin, while GreyMane takes a more direct role as a Worgen Warrior. Cho'Gall is different to every other Hero before, with the two-headed character requiring two different players to use him. Each player takes control of a head, with Cho controlling movement for himself and Gall. Gall, on the other hand, can focus more on abilities and attacks.
In a word, it's going to take some good teamwork to get the best out of Cho'Gall, but it's also a neat way of introducing new players to MOBA elements. Neat Blizzard.
The fourth character comes straight from Overwatch, as Tracer will eventually be added to Heroes of the Storm via a redeemable code in the Origins Edition of the game. She's only coming to the Nexus later next year.
But it's an exciting time for Heroes of the Storm and the thousands of fans who play it, as Blizzard reaffirm their commitment to their different enough MOBA for the next few years. Hell even I want to jump back in right now.
Last Updated: November 7, 2015