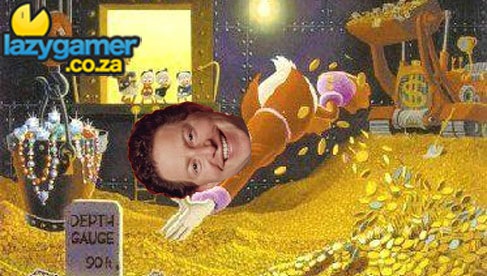 You can say what you like about Bobby Kotick – most of what you say would probably be along the lines of "Evil, Douchebag, Dickwad" and the like – but you can't deny that he's a shrewd and successful businessman.
When the man that everyone loves to hate took over Activision in 1991, it was hanging by a thread, moments away from declaring bankruptcy. It is now the largest 3rd-party game publisher in the world.
In 2000, he got hold of 2 million stock options valued at $1.03 a piece. This week, he sold those stock options which – riding on the monumental success of Modern Warfare 2 – were worth $11.50.
I'll make it easy so that you don't have to do any calculations. What this means is that this week Mr Robert Kotick has earned himself a cool $20.2 million, excluding his salary and whatever bonuses may be coming his way. He also still owns another 3 or so million shares, making him one of the world's richest pork sausages.
Source : Gamespot
Last Updated: November 13, 2009