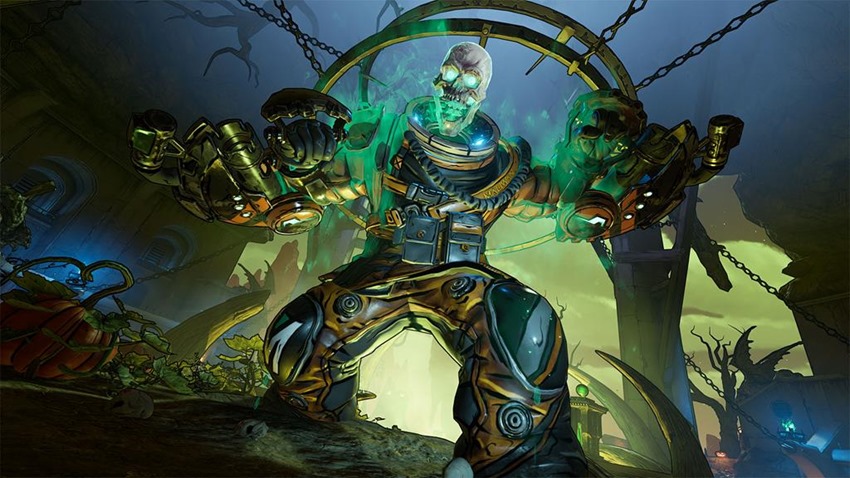 Borderlands 3 may have a campaign whose main appeal lies in an ever-increasing power fantasy and chance to respec yoself before you wreck yourself, but Gearbox is looking to add a little variety to the spice of life that is the latest sequel to the OG loot 'n shooter. Such an event kicks off soon, as the latest Borderlands 3 livestream revealed more details on the upcoming Bloody Harvest event that'll add some spookiness in October.
Here's how it works: During the Bloody Harvest, players will need to track down haunted enemies and slay the eternal life out of them. You'll know you've killed a haunted target, when your ludicrous weaponry spawns their actual ghost from the corpse. Bust the ghost (I swear there's a catchy song hidden somewhere in there), and keep your peepers peeled for a Terror debuff that can cloud your vision like a relative that refuses to get their cataracts looked at.
Hunt the haunted, slay them and you'll earn Hecktoplasm which can be used to bring Maurice on Sanctuary 3 to life. With Maurica around, you'll be able to access the Bloody Harvest map properly, and take on all manner of ghoulish foes such as Rakk-O-Lanterns and Captain Traunt (CAPTAIN TRAAAAAAAAAUUUUUUUNT) in his Captain Haunt guise albeit with a few new tricks up his rotting sleeves.
So what's the endgame here? Slay Captain Haunt, and you'll be able to earn plenty of cosmetics such as an ECHO Device Skin, a Weapon Trinket, a skin for each of the four Vault Hunters and a Global Weapon Skin. On the more substantial side of the rewards scheme, you'll also be able to grab new themed loot for all your hard work.
Bloody Harvest may be the first free update for Borderlands 3, but it won't be the last. Although if we ever do get a new Mr Torgue themed addition to Borderlands 3 with the season pass, I'd happily pay for all the guitar solos and explosive. MYEOOWOWOWOWOW EXPLOSIONS ARE BETTER THAN LASERS! SCIENCE!
Last Updated: September 23, 2019