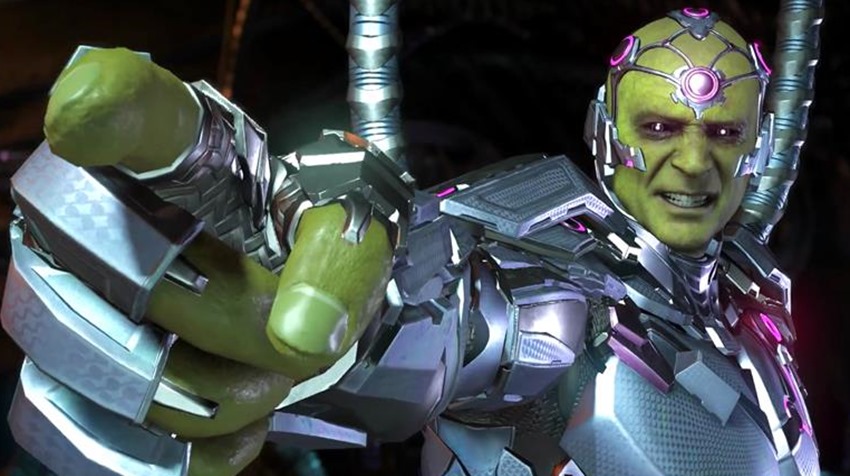 You know what the problem is with wanting to know everything? It's that the second you do actually achieve infinite knowledge, then some new stuff pops up that you have to learn about. Uuuurrghhh. There is a simple solution, however: You find a city, shrink it and its citizens down to a more portable size and then get to work extinguishing the rest of the lifeforms on a given planet. Easy.
That's also the modus operandi of Brainiac, a constant thorn in the spandex side of Superman. An alien intellect that makes Stephen Hawking look about as smart as me, Brainiac lives up to his name and then some. He's also the primary antagonist in Injustice 2, the catalyst that turns the more dickish Man of Steel and Batman away from the path of frenemies and back towards being the world's finest tag team again. Here's the 12th level intellect trailer for it:
Nerd time! Right, so if you're familiar with your Superman lore, you've most likely picked up on the fact that developer NetherRealm's version of Brainiac draws a lot of inspiration from writer Geoff John's and artist Gary Frank's reboot of the character. Back in 2008, Johns and Frank took the Coluan genius back to his city-bottling roots, creating a super genius threat who mixed brawn with brain.
Injustice 2 is clearly going with this incarnation, even throwing in familiar Brainiac drones and ships from that five-part comic book storyline to go with Supergirl's survivor's guilt from the time she barely escaped Kandor before the mad genius shrunk it down and added it to his near-mint collection of alien cities. I hear they're almost as valuable as those little NES Classic consoles.
And now you know. Injustice 2 is almost here, as I'll finally shut up about it when it arrives in May (No I won't).
Last Updated: April 21, 2017