A recurring theme within Bravado Gaming is making changes after a disappointing tournament. It slowed down last year after the team went on an unstoppable streak. Their final change prior to that was the addition of Robby "BlackpoisoN" Da Loca, who returned from Sweden to play again for the boys in blue. This is quite a controversial statement, but it seems when Bravado are underperforming, they change their lineup a bit. There's absolutely nothing wrong with that, it's just an interesting observation considering the somewhat limited talent pool available in South Africa.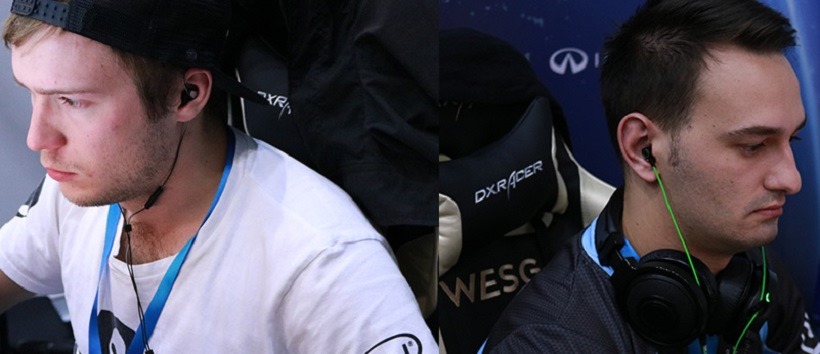 Ashton "Golz" Muller (left) and Robby "BlackpoisoN" Da Loca (right).
Yesterday Bravado released a statement regarding their most recent roster changes. Long time player Ashton "Golz" Muller stepped down and joining him was Da Loca, for other reasons. As of late Muller has not performed to his usual standard, leaving questions regarding his position in Bravado. Those questions were answered yesterday as Bravado and Muller announced his departure.
We bid farewell to long time friend and team-mate, Ashton 'Golz' Muller after he decided to step-down from our active CS:GO roster. It is uncertain what Golz will be doing and in which direction he will be moving forward in the near future, but whatever it is, we wish him only the best of luck and much success!  – From the Bravado Gaming press release.
Muller released his own statement via his Facebook page:
I will no longer be playing for the Bravado CS:GO roster. It was mutually agreed between my teammates and I for me to step down as this will benefit both parties considering my recent performance. I would like to take this time to thank Bravado and my teammates for everything over the last year and I wish them all the best, success and nothing less! I will be moving forward with so many great memories and experience!

I would just like to take this time to thank all my family and friends that have shown unwavering support and that will continue to do so through this decision…
But enough looking back! Time to look forward!
An optimistic outlook, and nothing less expected from a player of such calibre, and it seems he has already moved on and join Flipsid3 Tactics South Africa ahead of the contract cut-off time for the Digital Gaming League Master.
Da Loca has apparently been approached by an international organization, forcing his unfortunate departure:
Bravado Gaming would like to bid farewell to Robby 'Blackpoison' Da Loca as Robby has been approached by an International organization to play at the best possible level in the United States of America as he expresses unique fragging ability. Unfortunately right now we can't release more information about where Blackpoison will be going and who he will be playing for but we wish him all the very best.
Next, of course, came the two replacements and this is where it got interesting. Replacing both Da Loca and Muller are two young players from the team who chased Bravado Gaming throughout every tournament. Johnny 'JT' Theodosiou and Rhys 'Fadey' Armstrong, who played for CarboN Esports, have joined Bravado Gaming and will represent them throughout the competitive season. Both players are arguably two of the most talented CS:GO players in the scene and now present an extremely fierce Bravado Gaming lineup.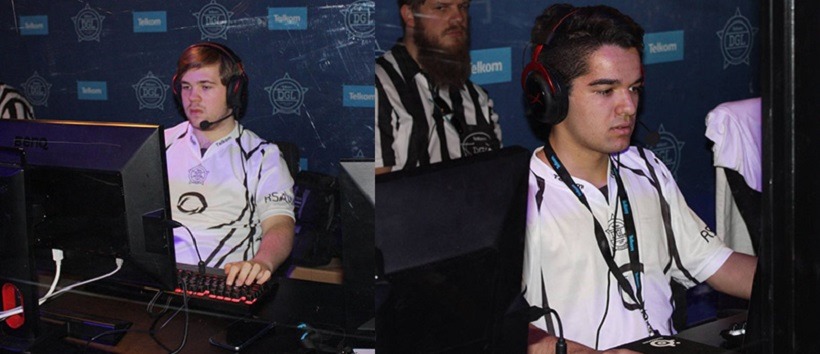 Rhys 'Fade' Armstrong (left) and
The full line up is as follows:
1. Dimitri 'Detrony' Hadjipaschali
2. Aran 'Sonic' Groesbeek
3. Johnny 'JT' Theodosiou
4. Ruan 'Elusive' Van Wyk
5. Rhys 'Fadey' Armstrong
6. Tiaan 'T.C' Coertzen (manager, coach and analyst)
CarboN Esports suffered a major loss due to the two players leaving, and I fear it will take some time to rebuild and fill those two slots. The competitive season is getting underway with DGL starting up soon, but I fear it might be a Bravado-filled year, again.
Last Updated: January 19, 2017