Last week Bravado Gaming departed for Paris to take part in the Electronic Sports World Cup. In the past, South African teams have taken to the world stage for international tournaments and struggled up against the competition. Some of our previous performances include Energy eSports at ESWC losing in the group stages, Bravado Gaming at Dreamhack getting a total of three rounds, and again at ESWC in Montreal struggling to break the group stage. This time, however still not making it out of the group stages, Bravado Gaming shocked international audiences as they nearly managed to beat the French team LDCL, who went on to Grand Finals after catching a wake-up call from Bravado.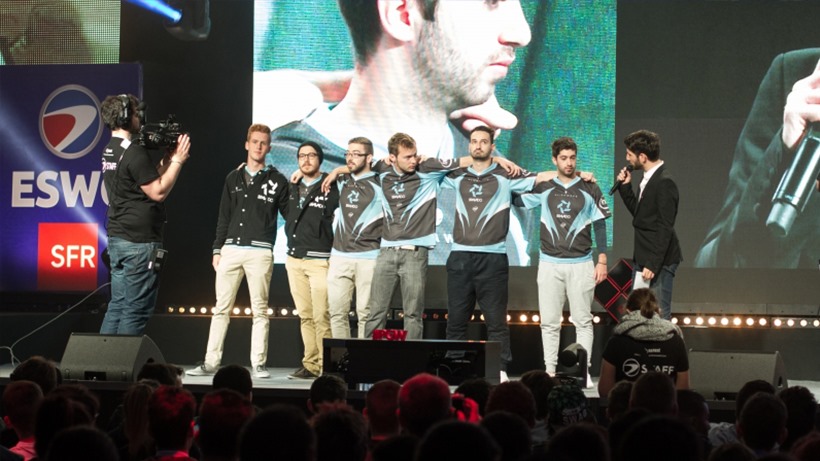 Image courtesy of HLTV
Bravado Gaming and LDLC met initially in the first round of groups where first game nerves got the best of the South Africans losing a tight game 16-9. Many may have felt Bravado were out of their depth, again, but this was not the case. They then went on to face Overcome, a team from India, where Bravado made quick work winning 2-0. On the other side of the bracket LDLC lost convincingly to Heroic, which meant they'd face Bravado once again in a best-of-three elimination match.
Train, Dust 2 and Cache were on the cards, three maps Bravado Gaming were comfortable on. The first map was an absolute roller coaster as both teams fought for the lead early on. The half ended 8-7, and it was obvious that Bravado were in the right mind to take the map. They played to their strengths and relied on opening power of Ashton "Golz" Muller and Robby "Blackpoison" Da Loca. It was a couple of incredible rounds by Bravado which pushed the team ahead, and history was made as Bravado Gaming took a map off an international team. The final score was 16-10, and all of a sudden the dream came to life.
Bravado kept at the three AWP strat, making it work round after round. When it came to the inevitable eco-round, Bravado led in full force winning important aim duels with pistols in hand. The French struggled up against Bravado's shear disregard for their economy, and the game ended 16-10.
Dust 2 was where things got really interesting. LDLC were visibly shaken by their first map lost, and Bravado were oozing with confidence, which showed in the first few rounds. Bravado took the pistol round, and landed on a 6-0 lead against LDLC. On the CT, this is a rather impressive score especially against an international team. The most memorable round from the Dust 2 match had to be the solo B hold from Aran "Sonic" Groesbeek who took down four LDLC members alone in the site. The half ended 9-6 in Bravado's favour, putting LDLC on the back foot going into the CT half.
LDLC took the pistol and the lead for the first time in the game, but Bravado managed to even out the scores at 12-12. Again, fan favourites LDLC were facing elimination and it was now do-or-die for the French side as Bravado aimed to make history. Unfortunately Bravado struggled to get another round as they continued to pressure A with LDLC fully aware of what their intentions were. Round after round Bravado piled into A and were shut down, ending the map 16-12 and on to map three.
Cache was set to be a tough match for Bravado as they'd lost to LDLC the day before. Friday was a bit different as Bravado now had the confidence and the aim to try take down the French once and for all. After losing the pistol round on CT, Bravado bounced back immediately rounding out the scores 3-3. Bravado grabbed a 4th round before LDLC began pushing back, pressuring bombsite after bombsite shutting down the Bravado defense. After sneaking in a 5th round earlier on, it was Elusive who shut down the bomb plant on the final round of the first half to give bravado a 6-9 finish in LDLC's favour. A notably decent map score Cache on LAN as the Terrorist side is favoured for a strategic, well gelled team, especially on LAN.
Bravado won the pistol and round after that before LDLC took it back to a two round lead. That would be the only two rounds for Bravado on their Terrorist side after a number of mishaps and a clear struggled against the French defense. The game ended with a 1v1 between Sonic and Ex6TenZ and the young player could not close it out against one of the best In-game leaders in the world. Bravado lost the third map 16-8, but they sure as hell gave LDLC a run for their money.
Bravado Gaming had nearly done the impossible, and they received praise from around the world for showing that South Africa is on the rise.
Big well played to @bravadogaming ! You fought us like lions and almost beat us! Respect!

— Ex6TenZ (@LDLC_Ex6TenZ) October 28, 2016
Cool to see Bravado putting up a real fight vs. LDLC. Massive improvement since their showing at the major (DH Winter 2014).

— lurppis (@lurppis_) October 28, 2016
Bravado head back to South Africa today where they begin their preparation for the World Electronic Sports Games in China later this year. With their performance at ESWC, Bravado Gaming have proved that South Africa need just a bit more work and exposure before reentering the international scene at tournaments like ESL and Dreamhack. Although they did not make it out of the group stages, they proved that it is possible and have bolstered confidence in every single team in South Africa. The implications of this will only be felt once the competitive year resumes in 2017, but until then we can throw every ounce of support their way as they prepare to take on international teams at WESG.
Like esports?
Check out esports central
Last Updated: October 31, 2016