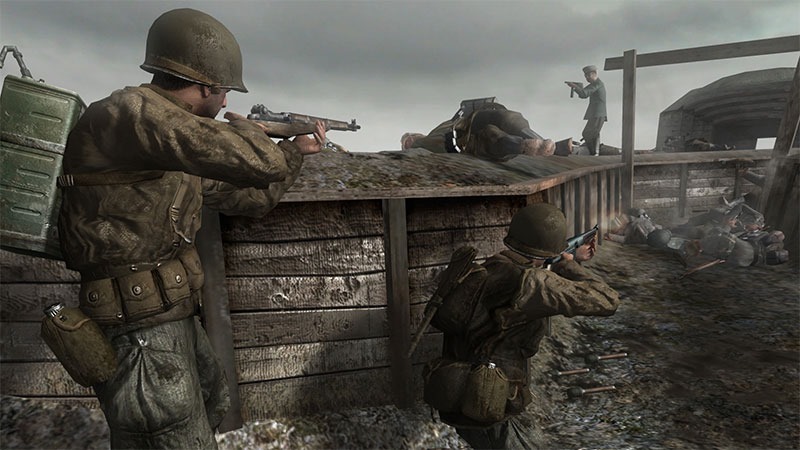 Call of Duty 2 is still probably my favourite game in the series, but that's because I'm not especially keen on the multiplayer shenanigans that have become its raison d'être. Add that I've always like the more historical take, and it's easy to see why I have very fond memories of playing through the game.
Back when it was released, I played the game on PC, largely because the Xbox 360 had yet to be released at that point. It did end up coming to Microsoft's console as one its launch games. It did, however, launch with a few performance issues. Though it targeted 60 fps, its odd frame pacing means that it often ran at half that frame rate.
Just over 10 years later, and the game is now available to play as a backwards compatible game on the Xbox One. I've always maintained that the Xbox One's software-based Xbox 360 emulation is powered by black magic, and there's nowhere more evident of this than in Call of Duty 2's performance on Microsoft's newer console.
The chaps at Eurogamer's Digital Foundry put the game through its paces on the Xbox One, and the result is impressive. The game seldom falters from its 60fps target, without any visual anomalies or oddness you'd expect from emulation. Take a look!
While there's the temptation to roll one's eyes and exclaim that "of course a game from 2005 runs better on new hardware!" the fact that it's being done by software-based emulation on relatively underpowered hardware is incredibly impressive.
As I've said before, I really expected Xbox One backwards compatibility to be an appreciated, but severely underutilised feature; something great for a bullet point on the back of a box, but not very much else. I was wrong.
Last Updated: August 25, 2016