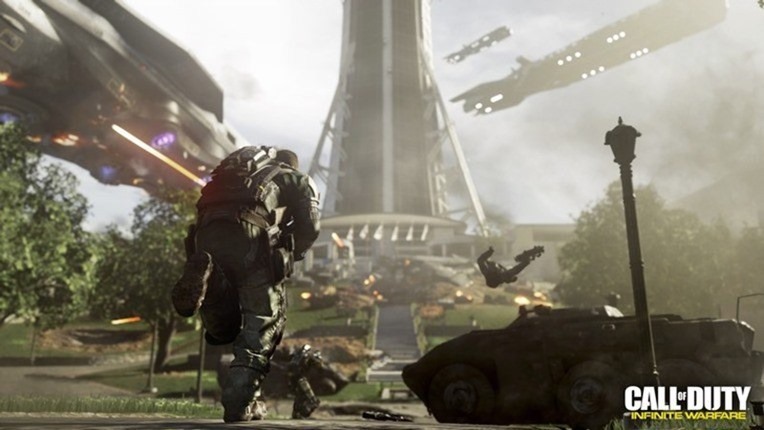 Each and every year, Call of Duty sells like hotcakes. This year is no exception – Infinite Warfare has sold millions. Here's what we thought of it:
The single player campaign is the freshest and most exciting Call of Duty has been in years. It's at its best when it veers away from the series staples and genuinely tries new things. Conversely, its multiplayer isn't – essentially rehashing last year's effort. Zombies? Well, it's Call of Duty Zombies, only with an 80's makeover.
As many million copies as it may have sold, Activision's latest shooter hasn't done nearly as well as its predecessors. In fact, physical year-on-year sales are down by nearly 50%! Here's an excerpt of Geoff's musings on the situation:
It's worth noting, of course, that these numbers are only representative of physical sales. Digital sales of games have continued to rise, but there are suggestions that digital now accounts for around 30% of the market. At best case, Call of Duty is still down.

There are a number of likely reasons. As an annualised game, it was inevitable that the market for the game would shrink – but there's probably a lot more to it. I think Activision's insistence on bundling the much beloved Modern Warfare remake with the expensive Legacy Edition only had the opposite of the intended effect.

There's also Activision's bigger push to make Call of Duty an eSports game – something that almost begs for its multiplayer to not drastically change from year to year. And while many series detractors think that Call of Duty is a copy-pasted rush job every year, this is the first year where it's multiplayer feels and plays largely the same as last year's.
In a bid to boost numbers I presume, Activision has now announced that Call of Duty: Infinite Warfare is getting a free trial (via Destructoid). Every mode (the campaign, multiplayer, and zombies) is going to be available in some or other limited form, from December the 15th right through until the 20th.
The multiplayer progression level will be capped at 15, and the zombies, at level 3. With regards to the campaign, only the first two levels will be available. If you were hoping for a small taste of the Modern Warfare Remaster, sadly, it does not feature in this promotion at all.
Interestingly, PC is not getting a trial version at all as far as I can tell. According to the official Activision page, this promotion will only be available on the Xbox One and PlayStation 4. It'll also vary by territory supposedly too. We've checked both the local Xbox and PlayStation stores, and nothing is available just yet. Here's hoping the demo files pop up, and early too. The download weighs in at a hefty 60GB!
Will you be grabbing them and taking Infinite Warfare out for a spin? If you like it, and do decide to buy the game after your time with the demo, don't worry, your progression will carry over.
Last Updated: December 13, 2016