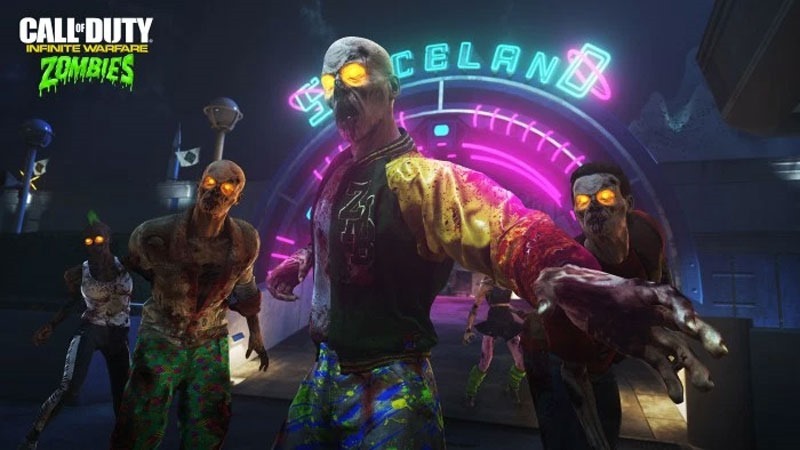 The 80s aesthetic has been coming back in to fashion for a while now, and nostalgia for the decade is at an all-time high. Much of that may have to do with Netflix's Stranger Things, which perfectly encapsulates the neon decade. As a product of the 80s, I'm ok with that.
It's probably why Call of Duty: Infinite Warfare's Zombies mode looks pretty appealing. I've always enjoyed Call of Duty: Zombies, a superfluous addition to the game that's usually only to be found in Treyarch's games. Seems that it's the most popular of the extraneous Call of Duty modes though, as Infinity Ward is taking a stab at the undead this year. Instead of going for that dark and grim aesthetic and tone though, they're opting for something a little more colourful, zany and frankly goofy.
Zombies in Spaceland is the new take on survival co-op that'll be launched as part of Call of Duty: Infinite Warfare.
"Zombies in Spaceland tells the story of four aspiring actors who come upon a mysterious movie theater for an audition. They've been invited by director Willard Wyler, portrayed with voice and likeness by Paul Reubens (Pee-wee's Big Holiday, Gotham), who was once the shining star of the horror genre.

"Unbeknownst to the actors, they will be transformed into characters and transported straight into Wyler's film to fight against waves of zombies in a space-themed amusement park set in the '80s."
The game also features the voice talents Seth Green as the stereotypical nerd, Jay Pharoah as the rapper, Sasheer Zamata as the valley girl and Ike Barinholtz as the Jock. It's a bit like The Breakfast club with guns and zombies then. The game also features the likeness and voice of a very Uncanny Valley David Hasselhof.
It looks…silly. I'm okay with silly. Infinite Warfare is coming to PC, PS4 and Xbox One on Nov ember 4.
Last Updated: August 17, 2016