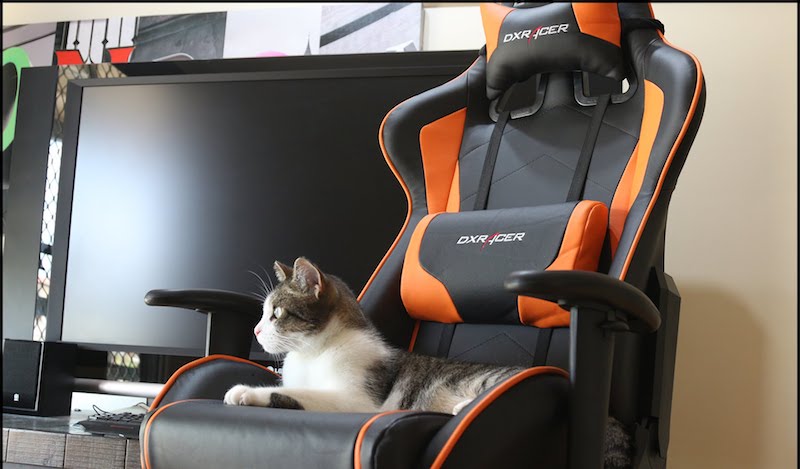 I am in the market for a new desk chair. I bought a fancy one a while back from Game, and it was great for a while. But the fact that I sit in it most of the day, plus get climbed on by a toddler… it's looking rather worse for wear. In fact, I'm missing a wheel, the back doesn't really support me like it used to and I'm sure it's contributing to some of my chronic pain. I've eyed DXRacer chairs for a long time, and I've chatted to many other people who have done the same. But they weren't in the country and the idea of importing seemed like too much hassle. Well, that hassle is now gone.
Megarom Interactive has announced that starting from today, you can go pre-order the DXRacer gaming chairs at Evetech. Why do you want one? Well, obviously they look cool, but even more important is this bit I'm going to copy and paste from the press release:
DXRacer chairs are manufactured to the highest quality standards. The level of comfort our products offer is unrivaled. Originally conceived to heighten the gaming experience, DXRacer has evolved to become not only the seat of choice for getting your game on, but for working hard at the office, too. No matter the activity for which you choose your DXRacer, it will take your experience to the next level.
No matter what activity I choose, eh? Must be a pretty sturdy chair.
No, really, I demolish my chairs. I don't mean to, but I'm obviously pretty rough on them. And now I'm excited to shop for one. I might go for the Formula series – I mean, it's not cheap but it's not as expensive as the others. Plus, considering how much time I spend in my chair, and how much I've spent on pain management because of poor ergonomics with my decaying chair, I think I might come out ahead.
Which one are you keen for? Don't tell me you aren't keen for any of them – I know you all sit in chairs regularly and would love to be more comfortable. They may be pricy, bu considering how many questions we field all the time grading high end gaming chairs, there's very definitely a big market for them.
Last Updated: December 15, 2016