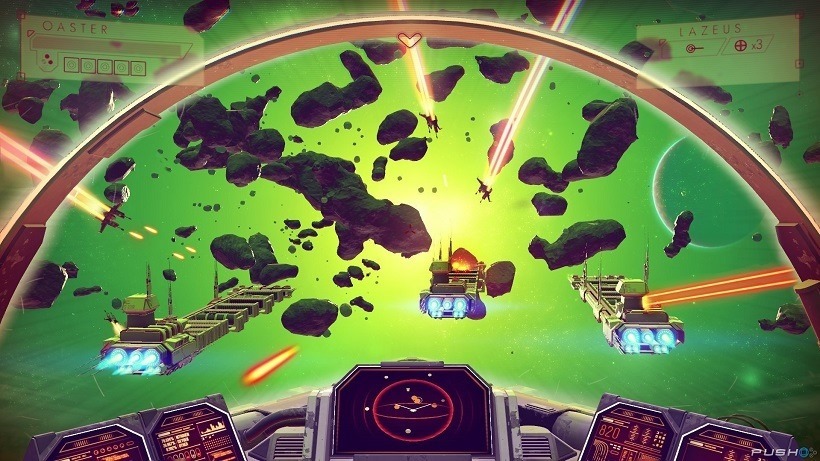 No Man's Sky is finally (finally) out tomorrow in the United States, and on Wednesday for the rest of the world on PS4 (and later in the week for the PC crowd). It's a game that has been in the limelight for nearly three years since reveal. A reveal that nearly never took place, for a game that, given slightly different circumstances, nearly never got made. It's a technical marvel with an incredibly interesting history, which the latest video Did You Know Gaming chews through.
It became a large story shortly after the game was revealed at the VGX Awards in 2013, but how many of you remember that Hello Games had their entire studio flooded shortly after? Sean Murray, lead programmer and face of No Man's Sky, stated that had they not revealed it earlier, the project likely would've been cancelled. Even before that Hello Games was looking to pull their trailer from the awards show, with many close friends suggesting it wasn't ready.
VGX host and organiser Geoff Keighley didn't allow for it – and now the game is just hours away from launch.
That's just the start of what would become one of the most watched projects in modern gaming history, as No Man's Sky remained an enigma for much of its development. Most of the buzz around the title was created over its procedurally generated world. A mathematical algorithm that allowed Hello Games to create a universe with over 18 quintillion planets within it, forcing them to program probes that would explore each one for them for inconsistencies.
Because exploring them all alone, even if only spending a single second on each, wouldn't be humanly possible.
It's these technological marvels that make No Man's Sky interesting to me personally, but this week will finally prove if there's enough substance to the underlying experience to keep everyone captivated. We'll all know very soon.
Last Updated: August 8, 2016