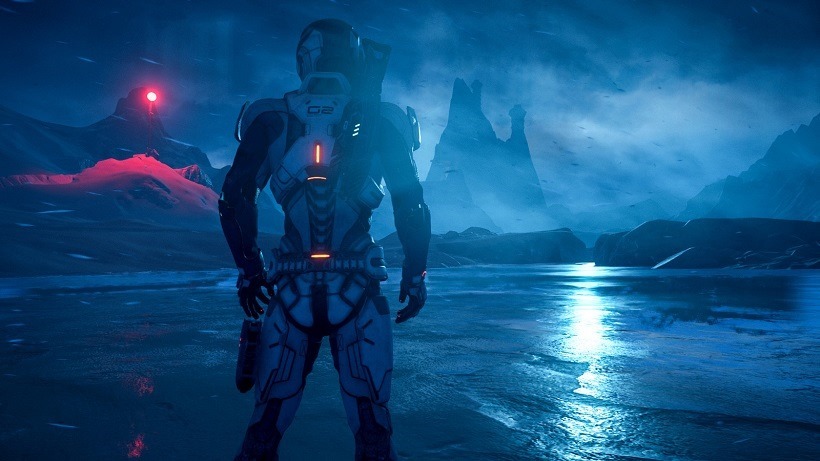 Mass Effect: Andromeda has been shown off a handful of times before now, and at least some of them have been teased as "first looks" at gameplay. But let's be honest, we haven't really seen Andromeda in action properly. At least, not until tonight, where BioWare rounded off The Game Awards with the first real showing of their next sci-fi RPG epic. And if you've been waiting patiently, this is the one bit of the show that you don't want to miss.
Because there is a lot to miss if you decide to skip it. Not only do we get our first little peak into some classic exploration and dialogue (with Krogans!), the gameplay trailer flies through a host of Andromeda features. You've got open-world exploration in the new Nomad, followed up promptly by some incredible fast and dynamic combat (can you even call it cover-based shooting anymore?). It's clear Andromeda is going to be action heavy, but with a really good mix of weapons and biotics making it in the fold.
I mean, did you see the Pathfinder just zipping around the battlefield like that? Biotics and tech will also feature heavily in the more traditional exploration mechanics, such as scanning wild life and outpost for resources to create more new stuff to scan other wildlife and outposts. Crafting is going to be a big part of Andromeda (as you'd expect), but BioWare is just scratching the surface of what's on offer here.
And that's great, because right now I think I've seen enough of what I want from Andromeda. Yes it's the first bit of real gameplay, but these RPGs live and breathe off a sense of discovery. And if this little taste is anything to go by, there's going to be a lot to look forward to next year.
Last Updated: December 2, 2016