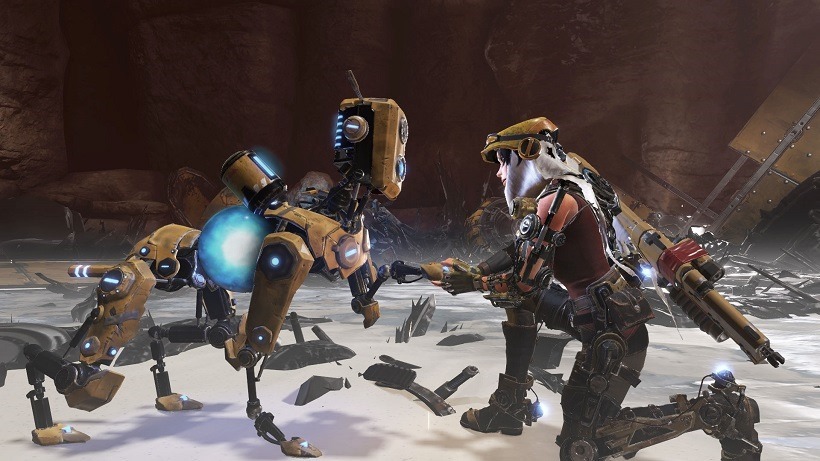 If you've only been exposed to its initial reveal trailer from last year, you might be surprised to see that ReCore isn't exactly the mega AAA exclusive many thought it might have been. From Keiji Inafune's Comcept along with Armature Studio, ReCore is instead a slightly smaller, much more arcade shooter with an assortment of robotic friends. And since it's out next week, it's about time we saw a bit of the game running on PC.
ReCore is one of the first titles to be bundled under the Play Anywhere umbrella. That means you only need to purchase it once to get access across Xbox One and PC, taking your saves between systems through the cloud. ReCore also doesn't look like the most graphically demanding game, which makes it a title that is likely to be played more between two platforms. But despite that, its recommended specifications are still a little high, as you can see below.
Minimum
OS: Windows 10 x64, X64
DirectX Version 11
Memory: 8GB
Video Memory: 2GB
Processor: Intel Core i5-4460, 2.70GHz or AMD FX-6300
Graphics: Nvidia GeForce GTX 660 or AMD Radeon R7
Recommended
OS: Windows 10 x64, X64
DirectX Version 11
Memory: 16GB
Video Memory: 4GB
Processor: Intel Core i5 45690, 3.9 GHz or AMD Equivalent
Graphics: Nvidia GeForce GTX 970 or AMD Radeon R9
If you meet that, then you're set to tackle what is currently straddling between surprising success and disappointing let-down. I didn't really like my time with ReCore at E3 earlier this year, but small slices of a game don't really tell the full story. The opening 20 minutes of the action adventure game, streamed from PC by Microsoft's Major nelson last night, opening the game up in a captivating fashion. To the point where I'm question whether I really disliked it as much as I thought I did.
Watch live video from Xbox on www.twitch.tv
Either way, it's out in just a few days, so we'll know for sure then. ReCore is out next Tuesday, and exclusively on Windows platforms.
Last Updated: September 7, 2016