The first day of the Dota 2 International Main Event offered up some of the best action we've seen so far in the competition. It started off with a massive clash between Team Liquid and Invictus Gaming with the favourites, Team Liquid, facing a formidable side with a reputation of previous TI winners. Although none of the players currently in the lineup were part of the winning team back then, they still had a major reputation to uphold, one they'd been building on throughout the group stage.
The theme for the series was control. Team Liquid played a chasing game throughout their first map against iG, and it was an Invoker last pick which left them lacking the necessary tools to put an end to the pace at which iG were executing their tactics. iG were choosing their battles well, and overran a struggling Liquid and they stole away game one.
In map two, Team Liquid changed it up and managed to put a ton of pressure on the back of Keeper of Light, who was actually awarded farm over their core heroes in order to finish up his Aganhim's Scepter simply because it's that powerful on the hero. Many felt they would be punished for this as iG's cores continued to farm, but it was near perfect play that allowed Liquid to continuously punish iG in team fights and tie the series at 1-1.
The final map showed remnants of the first as iG once again punished Team Liquid for their lack of control and continuously punished them by taking advantage in team fights. Chinese Dota at TI is likened to poetry at this stage of the competition as their executes in team fights are near perfect. Game three was all Earthshaker, and when an offlane is easily killing off your cores you know you're in big trouble. iG swept the game in 40 mins and favourites Team Liquid were off to the lower bracket.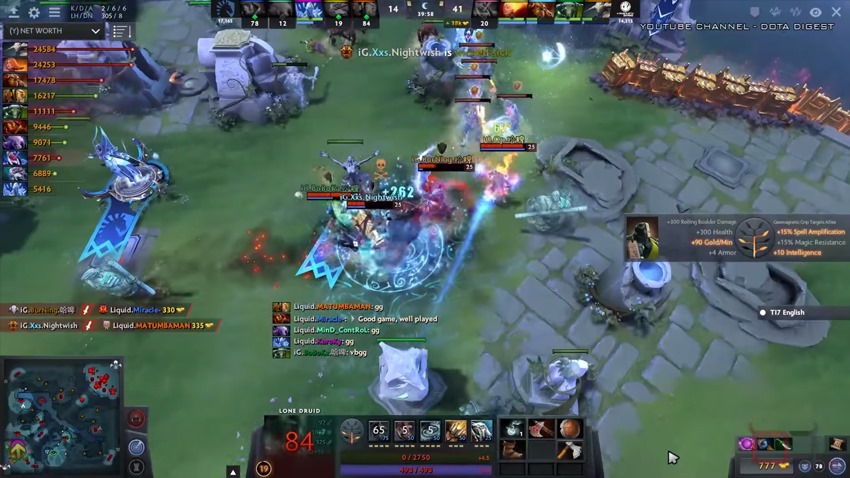 Newbee versus Evil Geniuses were the second winner bracket game for the evening and, like iG, both the former TI champions had big shoes to fill as their shaky group stage performance left questions over the heads. EG seemed to be in the driver seat for much of the first game, but Newbee did what Chinese teams do best and kept their pace while min-maxing on team fights. Soon Newbee pulled ahead and were able to defeat EG before even reaching the late game.
The second map was touch and go for both teams as a long drawn out affair between both teams so a major battle for control of the late game. Near the end after the use of both Black Holes by EG, Newbee denied them any real win on the team fight and forced a few buybacks from EG while attempting to demolish their second lane of racks. The continued the assault, while losing some, but managed to at least take down the racks before being pushed back. EG gave it one last big push up the middle lane but again with a Black Hole not doing much Newbee were able to punish EG on the higher ground in their base and forced the GG from the former TI champions.'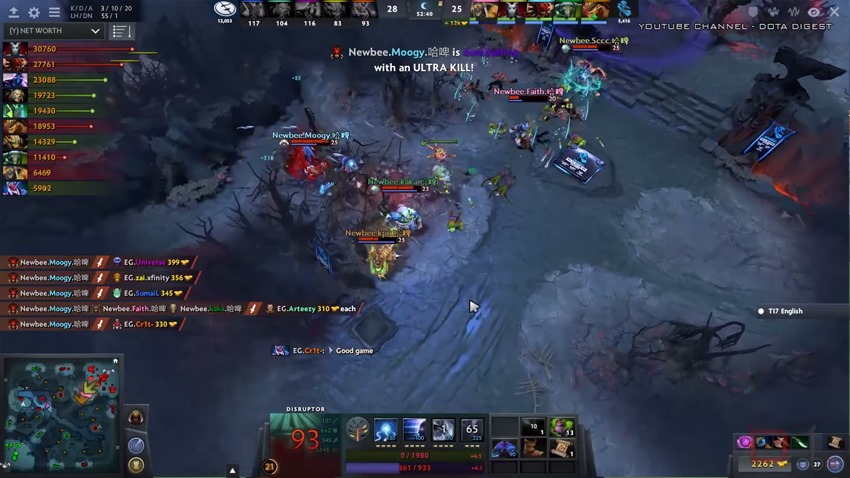 The lower bracket, which was when my eyes could barely remain open, was home to the final few matches of the evening. While I was unable to complete these games I was saddened by the news that Cloud9, and my boy EternalEnvy, were unable to defeat Team Empire and were thus eliminated in the lower bracket. We also said goodbye to Execration, Infamous and iG Vitality which leaves an extremely tough day two of competition. Still shaken by the Cloud9 exit, I feel EternalEnvy will be back in one of the best anime comeback stories in the history of Dota 2.
Like esports?
Check out esports central
Last Updated: August 8, 2017