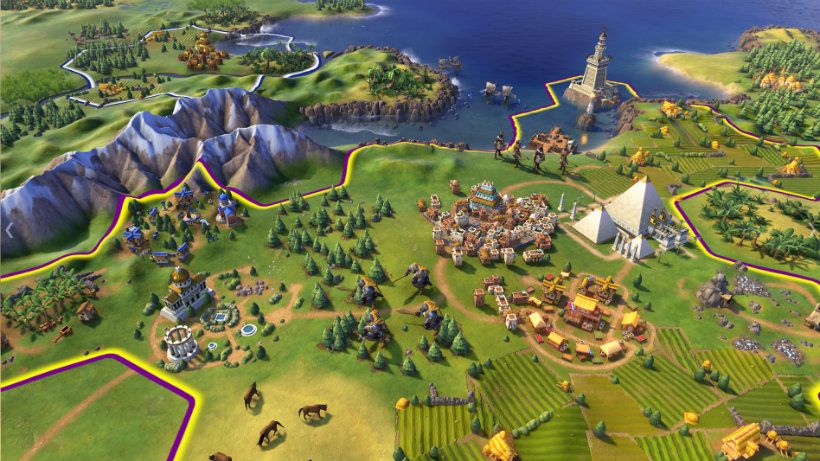 I am excited for Civilization VI – each installment in the franchise has brought with it hours of entertainment and excitement. However, I often feel that the game is targeted more at war mongers. I tend to play a culture game, and while I have great success with that approach, it always seems that gameplay reveals, let's plays, and even the core game mechanics are actually built with war in mind. Surely players of a game called Civilization could be more civilized? Well, with this installment, there's finally some thought for us pacifists.
In a new Q&A with the Civilization VI team, Lead Producer Dennis Shirk explains:
I'm a huge culture player and builder, so the way this has changed in Civilization VI has some of the biggest impact for me. I love how the Wonders and Districts take up their own tiles (Theater Square FTW!), and I love how the entire civics system is driven more directly by culture. It feels so much more active than it has before. For builder players like me, they're going to love this change.
I hope I can believe you, Mr Shirk. I am still wary about the art direction – it looks like a mobile or cartoon game. But Art Director Brian Busatti insists it's a good thing:
Civilization has always had something of a lighthearted approach to history, and we wanted to blend that with a style that made the things in our world more readable to the player. The new look and feel allows us to deliver valuable game information to the player without them having to dig too deeply into the UI. Units in the game now have unique and interesting silhouettes that are quite readable from a distance. Colors show a district's function and resource contribution. The leaders have a lot more personality and it's much easier to read their emotions. Our very talented animation team is having a blast bringing the leaders to life. The addition of districts has allowed us to focus on a much more natural look for our cities. The end result is a game whose look balances nicely with the new game design.
I'm still not too sure, to be honest. It just doesn't look serious enough for me. I know Civilization is light hearted, but it's also a serious strategy game. At the moment, it feels like it looks more like Clash of Clans. Oh well, I suppose at least it won't be so intimidating to newcomers to the franchise. Maybe Darryn will even be more open to playing it. Oh, who am I kidding?
Last Updated: July 13, 2016