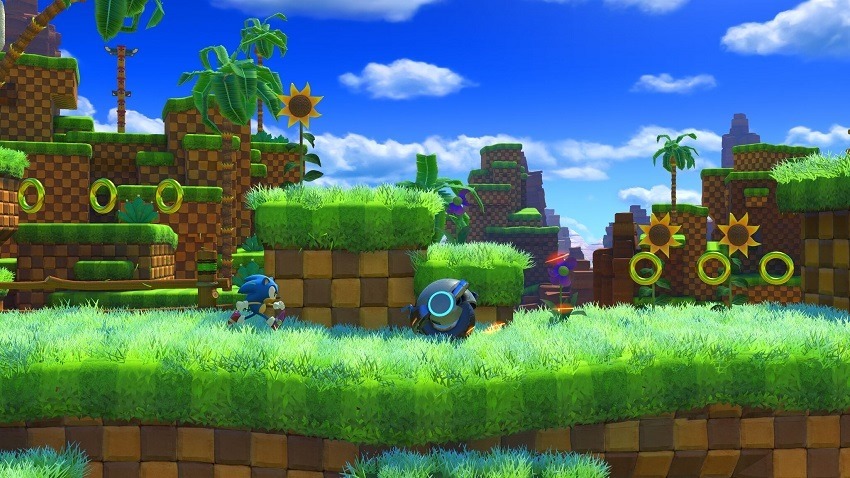 Just like Sonic Generations before it, Sonic Forces (which is due out later this year) will be combining elements from previous 3D and 2D iterations of the blue blur. Classic Sonic will have various stages set in a 2.5D world – retaining the appealing 3D visuals but locking movement to just two axes. And what better way to show this off for the first time than taking players back to the Green Hill Zone – arguably the most recognisable world in the Sonic universe. Too bad then that the gameplay just looks so dull.
Don't get me wrong, Classic Sonic is still fast. It's still tough to keep up with the action on-screen, especially with some of the new tools Sonic can use to bring his speed back up to max after slowing down. The problem instead is just interactivity. Classic Sonic games were fun because they made pathfinding and speed retention challenging, which made perfect runs all the more rewarding. The gameplay below doesn't learn from that, instead turning the entire thing into a more on the rails affair.
Truth be told, I'm not exactly sure what players are actually doing aside from just occasionally jumping. There don't seem to be many path decisions to make, and even less bother with keeping Sonic going faster when supersonic enablers are frequent and close to one another. There's nothing wrong with platformers on some sorts of rails (the Rayman mobile games and Super Mario Run are proof of that), but they still need to look like they require some smart input from players. Something which this gameplay fails to convince me of.
Still, it's just one portion of a game that's going to feature shifting gameplay perspectives and (hopefully) brand new ones entirely. Sonic Forces is out later this year, but if you're more in the mood for something more nostalgic Sonic Mania has you sorted in just a few months.
Last Updated: April 26, 2017