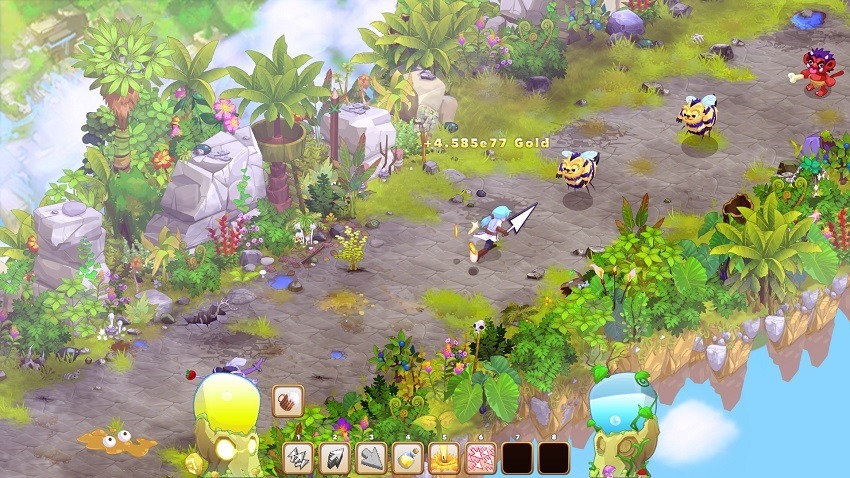 Free-to-play models are by virtue of their design, intended to entice players to spend money. And if the game is good, why shouldn't you? It's a model that tries to push an experience for free while also giving paying players a worthwhile reason to throw down their dollars, but it's a system that is ultimately open to addictive personalities. While some games revel in their "whales", others, such as Clicker Heroes, see it as a big negative. And it's directly changed the course of the sequel.
Clicker Heroes 2 won't be free-to-play, with the game instead adopting a traditional "pay once to unlock" model for $30. The move comes after developers Playsaurus monitored the spending of some players in the first game, and found a select few to be spending thousands of dollar in the in-game currency called Rubies. Wrought with guilt over how they might be feeding into addictive personalities, the studio is course-correcting in their sequel, as explained in a long blog post by developer Fragsworth.
"We really don't like making money off players who are in denial of their addiction. And that's what a large part of free-to-play gaming is all about. Everyone in the industry seems to rationalize it by shifting the blame, assuming way too much cognizance on the part of their victims. People can make their own decisions, right? But it just doesn't sit well with me. Despite very few of our players having complained, it felt wrong when we started doing it and it still feels wrong now."

"Games are inherently addictive. That alone is not a bad thing, until it gets abused. In Clicker Heroes 1, we never tried to abuse players with our real-money shop, and for the most part we designed it without the shop in mind so that you never have to purchase rubies to progress. Despite this, we found that some number of players spent many thousands of dollars on rubies. I can only hope that these people could afford it, and that they were doing it to support us, and not to feed an addiction."
That's a noble shift of heart, but it also doesn't mean that Clicker Heroes is changing the way it operates. Fragsworth admits that changing the game now would devastate the studio, which seems to imply their need to keep the spending alive while they develop their sequel. It is, however, a more introspective look at this market than most will care to admit. And while Playsaurus seems to want to back away from feeding addictions, other games encourage them.
Free-to-play is a market that is designed to operate on the small spending of a large portion of their player base, and the exorbitant spending of a select few players. That sort of mentality in design can be dangerous to some players, and it's refreshing to see some studios recognise that.
Last Updated: November 21, 2017