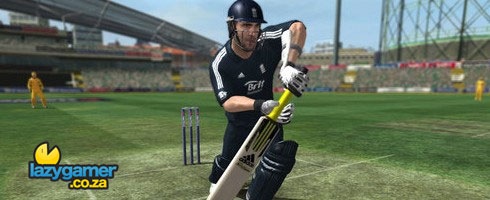 Hey Cricket fans. As far as sports games go, you've been a rather neglected bunch, with the heavyweights preferring to make more US-centric sports games like Madden and MLB. Oh, and games about 23 idiots running around on a field after a ball. Of course you're not nearly as neglected as rugby fans, who haven't seen a proper game in what seems like decades.
you're lucky in that you're about to get another one, courtesy of Codemasters and Trickstar Games a studio comprised of fellows behind the pretty good, but ultimately disappointing Ashes Cricket.
The new game will feature a camera known as "Action Cam", which promises  "new on-field perspectives", as well as the addition of something called "Power Stick", giving the batsman "360° analogue power and direction control". Howzat?
"Codemasters enjoys an unrivaled heritage in producing cricket games, and International Cricket 2010 will build on this success with a range of innovative gameplay features and enhancements," said producer, John Szoke.

"With a focus on taking gamers into the action like never before, International Cricket 2010 will deliver the most authentic cricket gaming yet."
Unfortunately they still haven't sorted out official team-licencing this time around, so expect the South African team to once again get saddled with some pretty ridiculous names and frankly, that's just not cricket…
international Cricket 2010 will be arriving for PS3 and Xbox 360 around the end of Winter this year.
Last Updated: March 19, 2010