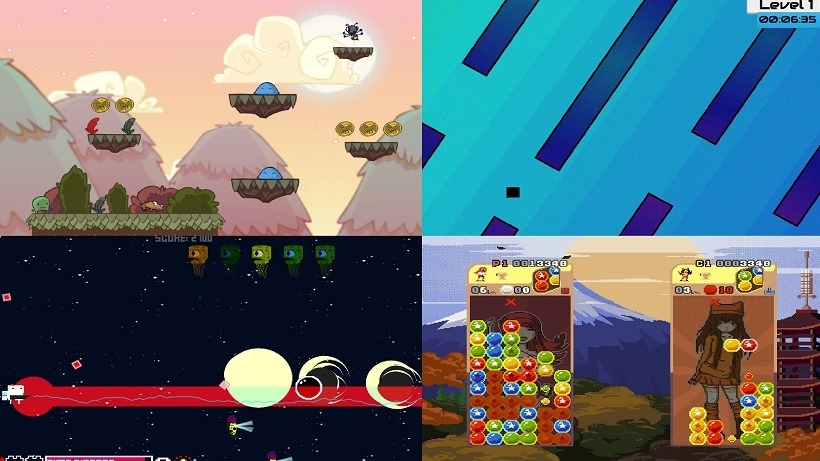 I thought I'd met my match when I had to play Five Nights at Freddy's 4, and then I was subjected to something even more horrific – a game called Herding Dog. Let's just say that both have left me irreparably scarred for life!
Will that stop Geoff from throwing more random games at my face though? Of course not – he's got four more lined up, and I want you to help me choose which to play first! Here's a brief overview of each (NOTE: each heading is a hyperlink to each game's Steam page).
Ubie, an adorable little alien from a distant galaxy, has crash landed on an unknown planet. There can only be one person behind this: his fiendish and decidedly less cuddly rival, Dr. Terrestrial! Now it's up to you to help Ubie get back home by fighting enemies, discovering secrets, and repairing Ubie's ship!

Inspired by Super Mario World and other classic platformers, Super Ubie Island REMIX is a game with old school roots, a full original soundtrack, adorable characters, beautiful graphics and an engaging adventure.
Ever wanted to get caught out in the rain with a cute girl? Well now you can! Except the rain is actually a giant blob of goo and you are the cute girl.

Raining Blobs is a fast-paced arcade puzzle game based around matching falling blocks. Matching blocks of the same color will link them together while matching blocks with stars in them will destroy the linked blocks. This game will put both your fingers and mind to a test of raw skill. Prove that you have what it takes to survive the endless blob rain!
Picture a futuristic Earth plagued by aliens. Easy to imagine, right? What you probably aren't aware of are the people who are rising up to the challenge. Meet the Super Intergalactic Gang, a team of the best alien-blasting professionals the Earth has to offer.

Super Intergalactic Gang is a classic arcade shoot-em-up with a new twist. Slow time to dodge waves of bullets, charge up shots into super attacks, and even punch your enemies to death! The game is a fresh new take on a genre that is an oldie but a goodie.
Think you've got the reflexes of a tiger? Then come in test them in this ultimate crucible of unrelenting challenge!

Difficult, intense, and addicting, Protoshift is an arcade game like you've never seen before. Featuring twitch gameplay at it's finest, use your mouse to dodge incoming obstacles while rocking out to some groovy beats.
Quite the variety, isn't it? So yeah, take a look at them all, and let me know which you'd like me to play first in the poll below. I'll have a Let's Play of the winner up soon enough!
Last Updated: January 20, 2016