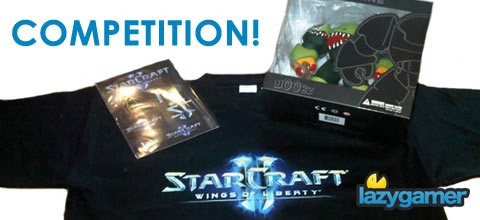 Who wants some really awesome free stuff? You do? Great, because I happen to have a bundle to give away right here.
Starcraft II releases on the 27th of this month, and you could win yourself a great Starcraft II bundle to make your experience that much sweeter. Here's what you get in the bundle:
1 x Redeemable Starcraft II download key (yes, that means free game)
1 x Starcraft 2 T-Shirt (XL)
1 x Noob figurine
1 x Sticker Pack
Sound good? Definitely. You will be able to enter normally, but I feel like having some fun for extra points. How's about a Starcraft 2 bar-joke comp for extra points? Sounds fun.
Hit the jump for the details.
Ok, first the small print:
The judges' decision is final and no correspondence will be entered into. The prizes are not transferable and may not be converted into cash. Staff members of Lazygamer, ashsky.com, Megarom, Activision-Blizzard as well as their advertising agencies and their immediate family members may not enter. The competition is open to residents of the SADC only. Prizes awarded are the responsibility of the competition sponsors.
Good, now that we have that out of the way. Let's do this.
To enter the competition, simply enter by emailing comps@lazygamer.co.za with your name and details, and you could be selected as a winner.
To better your chances, complete the joke below in your e-mail as well, and you can get yourself an extra entry:
Two Zerg walk into a bar…
You can take the joke anywhere from there, points will be awarded for humor and creativity. We will post the best jokes up when we announce the winners.
P.S: Megarom also have a Facebook page now, you can check it out here.
Last Updated: July 21, 2010