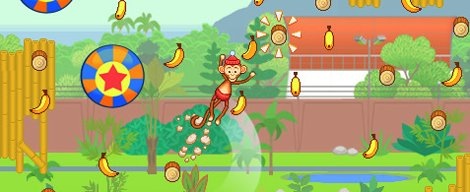 Digital Chocolate's fun new title, Crazy Monkey Spin is now available for your iPhones. You can download it from the iTunes Store and It currently costs around £1.79 and there is an option to download a free version, which we expect will have some limitations.
The title is fully equipped with the iPhone OS 3.0 feature that allows you to browse through your iTunes music library while playing the game.
CEO of Digital Chocolate, Trip Hawkins stated that,
"Crazy Monkey Spin is our newest game out on the App Store, Apple customers will enjoy this new type of action puzzler that is easy to learn and hard to put down."
Crazy Monkey Spin is a platform-puzzle title that follows the adventures of a monkey, players must navigate a number of zoo-themed levels to rescue a bunch of animal friends.
Source: casualgaming
Last Updated: August 4, 2009