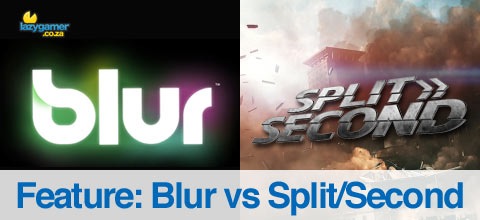 We don't know why it seems to happen in the videogames industry but from time to time you get two games coming out in the same release window that go completely head to head. The two titles we are referring to of course, are Blur and Split/Second.
The last time we saw something like this take place was with the release of Prototype and Infamous almost one year ago. Even though those two games were actually incredibly different on so many levels, the big question was flying around for just about ever as to which one would be the game of choice.
The Blur Beta has been out for a while now, and the Split/Second demo was released this past week as well. We took these early previews of both games for a head to head spin to see which one you should be keeping your eye on.
Blur steps into the fray as somewhat of a hardcore Mario Kart for the Vin Diesel's of this world, featuring real-life licensed cars, crazy pick-ups and intense rivalries. As most of you know, Blur was supposed to be released quite a while back, but was delayed until 2010. I had the chance to play the game at an Activision press event late last year on some of the consoles that they had setup and to be completely honest, I really didn't like the game. The driving mechanics felt weak, the power-ups made the game feel too random and on the whole, I just wasn't very impressed.
It was for that same reason that I had been keeping my eye on Split/Second. In Split/Second they have taken this idea of a crazy televised reality TV, hollywood action-styled mixture of high octane racing and insane explosions. The idea is that the racers can earn power-ups that allow them to do crazy things like open flood gates, cause explosions next to their opponents and even create detours on the track.
The major differences between the two games comes down to the types of power-ups and how you get them. In Blur, power-ups are littered around the tracks as icons in a very similar vein to Mario Kart, allowing all racers to fight over them and use them against each other by firing missiles, dropping mines and so on.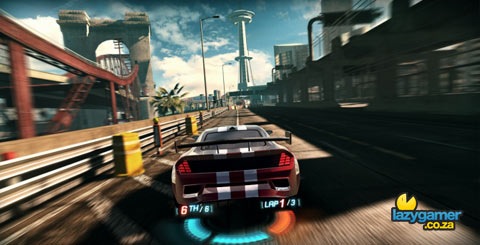 Split/Second on the other hand feels a whole lot more like the pre-Paradise City Burnout series. You fill your ability meter by performing maneuvers like drifting and drafting. By filling up your meter, you can activate traps on the track to take out opponents, and like I mentioned before, even completely change the track.
So that Blur and Split/Second in a nutshell. So which one do I prefer? Split/Second had caught my eye, and Blur had left a bad taste in my mouth, but needed to be looked at again since my last play session.
Last Updated: April 29, 2010