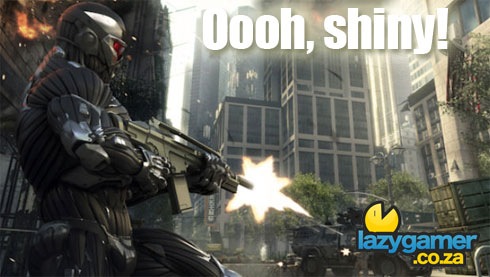 Crytek have made the rather audacious statement that their upcoming shooter Crysis 2 will feature the very best graphics ever seen in a video game.
This should provide a little comfort to PC enthusiasts who believed that the series' transition to consoles – something Crytek admitted having difficulty with -would result in it being dumbed down, and not a graphical benchmark like the first game.
"We know [developing for PS3] is a big challenge, but we're happy to accept it," said Crytek executive producer Nathan Camarillo to magazine PSM3.
"The most important thing that Crysis taught us as a developer is that, while cinematic graphics and convincing gameplay will get you a lot of press and build strong interest before release – you shouldn't count on that exclusively."
He added: "We're aiming to set the graphical benchmark. Why would anyone not want to play a game with the best graphics they have ever seen, great gameplay, some engaging fiction, challenging AI, killer weaponry and a complete gaming experience like no other?"
I'm hoping that Crytek don't actually count on just shiny uber graffix. While I liked the eye-candy the first game provided, when it came to actual gameplay I was left wanting. Let's hope Crysis 2 can provide awe-inspiring visual, and gameplay to match this time.
Source : CVG
Last Updated: April 1, 2010