This used to be a CS:GO column, mostly, but it has been a while since I covered anything to do with CS:GO. Today, Valve have released a major content patch bringing new cosmetic gloves, new music packs, group lobbies, and more. The gloves were quite a surprise as a concept was posted on Reddit not too long ago featuring team logos on gloves – a better way to support your favourite team, or waste money. Let's take a closer look at this major content patch.
Gloves are off (on)
While some players are upset that Valve aren't addressing clear issues in CS:GO, other are rejoicing in the fact that one more cosmetic will be added to their ever growing collection. While the gloves were originally pitched with team logos on the gloves, the latest case, simply called The Gloves Case, will include 17 community created designs and a total of 24 new gloves to collect.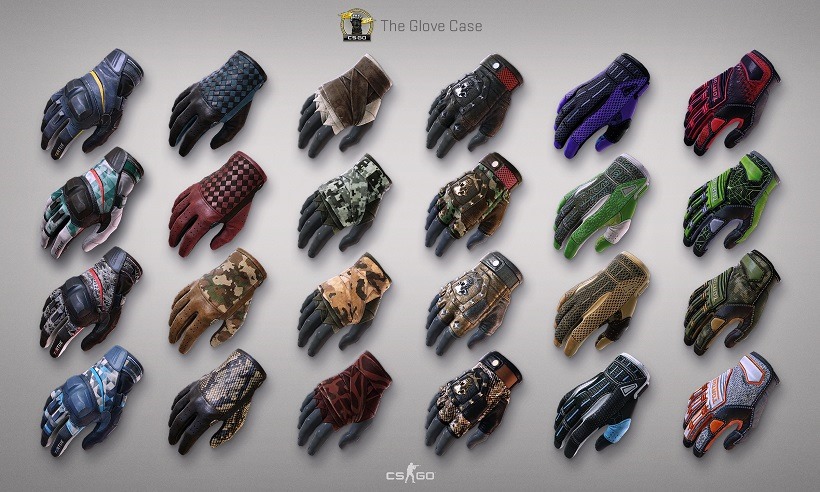 Once again gloves will have various rarities, forcing players to mix and match to fit their weapons and knives. The cases are live, so while your paycheck is still fresh, treat yourself.
Create the perfect stack
When I played CS:GO I always made sure I had a few people in the lobby who I knew were going to carry me to victory. I'm not ashamed to admit that. The latest update also brings in Steam Group Lobbies which is going to make this process a whole lot easier. Once you've made your Group Lobby, you can monitor friends in that lobby and join games when they do. A UI update has added these steam groups to the client, making it easily accessible when searching for your perfect party.
There's no limit to your lobby, and you can join some of the regional or language specific lobbies to make sure you always team up with people of your choice.
Other important stuff
Valve also added a new "Radicals Music Box" with artists I've never heard of. But most importantly there have been a number of changes to both Train and Dust II.
Dust II
Removed barrels outside of doors leading into B site
Blocked visibility through some props around A site
Fixed some spots where C4 could get stuck
Fixed some minor graphical bugs
Train
Fixed ladders on train cars so they no longer move the player view when attaching
Added more accurate collision for various models
Blocked visibility under some trains from far angles
Blocked grenades entering small crawlspace near popdog ladder
Raised pipes in tunnels near Ivy
Fixed a spot in T spawn where weapons could not be retrieved
Fixed some spots where C4 could get stuck
Removed that bump in T stairs. You know the one.
Fixed some surfaces playing the wrong footstep sounds
Some graphical tweaks
That's it for this major content patch, maybe next time we can seem some fixes to obvious problems in CS:GO.
Like esports?
Check out esports central
Last Updated: November 29, 2016