The last major update for CS:GO turned footsteps into what can only be described as a horse galloping around the map. Today it all made sense as Valve implemented the Winter Wild Wild West Update bringing in a handful of necessary changes and bug fixes, and along with it a new secondary weapon called the R8 Revolver. This extremely powerful pocket rocket knocks the Desert Eagle out of the park on many fronts, and we can only imagine the chaos that will ensue once it's added to competitive matchmaking.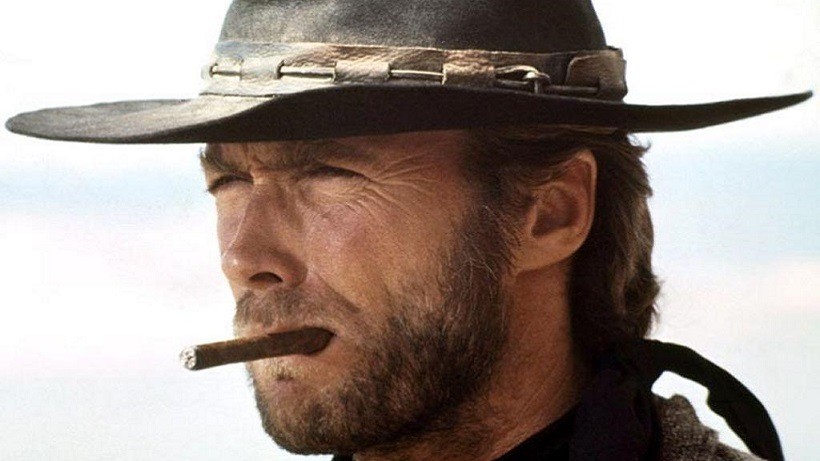 Major Winter Update
WINTER UPDATE
Slight adjustments to Holiday Cheer.
Gifts are now available for purchase. Gift leaderboards will be displayed until January 15th.
Added the Revolver Case.
Added several new community sticker capsules, currently available as offers.
Added Service Medals for 2016. Players achieving Global General rank after December 31st will receive the new year's medal.
R8 REVOLVER
Added a new secondary weapon, the R8 Revolver, which occupies the Desert Eagle loadout slot.

Note: The R8 Revolver will become usable in-game when the back-end servers restart.
GAMEPLAY
In Competitive Matchmaking times are now 1:55 and 0:40 for round and C4, respectively. These are also the new times for CSGO Major Championships.
Adjusted recovery time on the AK47, M4A4, and M4A1-S assault rifles to reduce the range at which spraying is preferable to tapping/bursting.
Increased move inaccuracy on pistols: Elites, Fiveseven, Glock, P2000, P250, Tec9, USP, CZ75a.
Added team timeouts to Competitive Matchmaking, which can be called with a vote. Default is 60 seconds, set by mp_team_timeout_time.
KILLER REPLAY
Added new Killer Replay to Casual and Demolition modes. GOTV must be active on the server to enable the feature.
Menu option Help/Options->Game Settings->Automatic Killer Replay will turn replay off.
Several convars are available to customize the Killer Replay. Search for 'replay' in the console for a complete list.
COMMUNITY
Game servers and GOTV relays not logged in to a persistent game server account with a Game Server Login Token (GSLT) will only allow clients to connect from the same LAN.
Community servers can now be only connected by their real public IP or their internal RFC1918 address.
To create a GSLT, visit the GSLT creation utility here: http://steamcommunity.com/dev/managegameservers[2]
Each GSLT is restricted for use on one dedicated server instance only, and should be passed on command line with +sv_setsteamaccount THISGSLTHERE -net_port_try 1
Added an option to report servers for misrepresenting players' inventory and/or rank.
Game servers will now display their SteamID to an operator's status request in the server console.
Game servers with GOTV enabled and GOTV relays that need to support external clients connecting on GOTV port must set tv_advertise_watchable 1
MISC
Users' options are now stored independently in a Steam account-local data folder and can be different across Steam accounts on the same machine.
Administrators setting up tournament Active Directory logons with Roaming Profiles can create a directory inside the user's roaming profile storage and expose that location to the game by setting an environment variable USRLOCALCSGO=%USERPROFILE%\AppData\Roaming\csgo
Video options for shadow quality, model/texture detail, effect detail, shader detail, and texture filtering mode can now be autodetected at startup to adjust for multitasking with other background applications. These video options can also be permanently set by the user to remain the same regardless of other background applications detected during game launch.
Minor sound mix tweaks. First person footsteps slightly quieter, third person footstep volume remains unchanged.
Highlights and Lowlights now transition smoothly between clips.
Lowlights will now identify the target using the same visual indicator as the Killer Replay.
MAPS
Fixed some surfaces playing the wrong footstep sounds in Mirage, Overpass and Train.
Fixed a DM spawnpoint in de_dust where the player would get stuck.
STEAM CONTROLLER
Made toggle crouch work
Fixed several bugs
GAME STATE INTEGRATION
CS:GO's game state can be relayed remotely, allowing third parties to integrate their services with the game. For example, game state integration was used at the CS:GO Major Championship at DreamHack Cluj-Napoca to present special stage effects (e.g., lighting and pyrotechnics) during a match.
For details on how to set up your service to use game state integration, visit the wiki page here:https://developer.valvesoftware.com/wiki/Counter-Strike:_Global_Offensive_Game_State_Integration[3]
SERVERS
Added official servers in Hong Kong
Important Changes
There are a few major gameplay changes in the new update which will directly impact both competitive and professional play. The first change is obviously the revolver, and secondly the change to round time and C4 time being 1:55 and 0:40, respectively. For a better understanding of these changes I chatted to Trevor "kanibalistic" Morely for his take on the two changes.
First of all, let's discuss the round and C4 time:
"The increased round time and C4 timer simply means that retakes will become a lot more frequent as the Counter-Terrorists now have extra time. The necessity of a defuse kit becomes less important, especially on economy rounds for Counter-Terrorists when a kit may no be available. The round time increase will change a few strategies as timing may be off, and both teams will now have to cater for an extra ten seconds with regard to conserving equipment."
Secondly, what about the R8 Revolver?
"In my opinion the revolver will be the first thing Valve fix, the fact that it kills mid-range through armor in one bullet is absurd. At headshot the Revolver does roughly 400 damage, which means it currently does more than an AWP. The mechanics of having both an accurate shot (100% accuracy when using Left-Click) and an inaccurate shot on Right-Click makes the gun extremely powerful at all ranges. At $850 you need not even buy a rifle if you have the aim. Despite the addition of the Revolver, I personally still prefer the Desert Eagle as recent changes have made the gun more practical in most situations."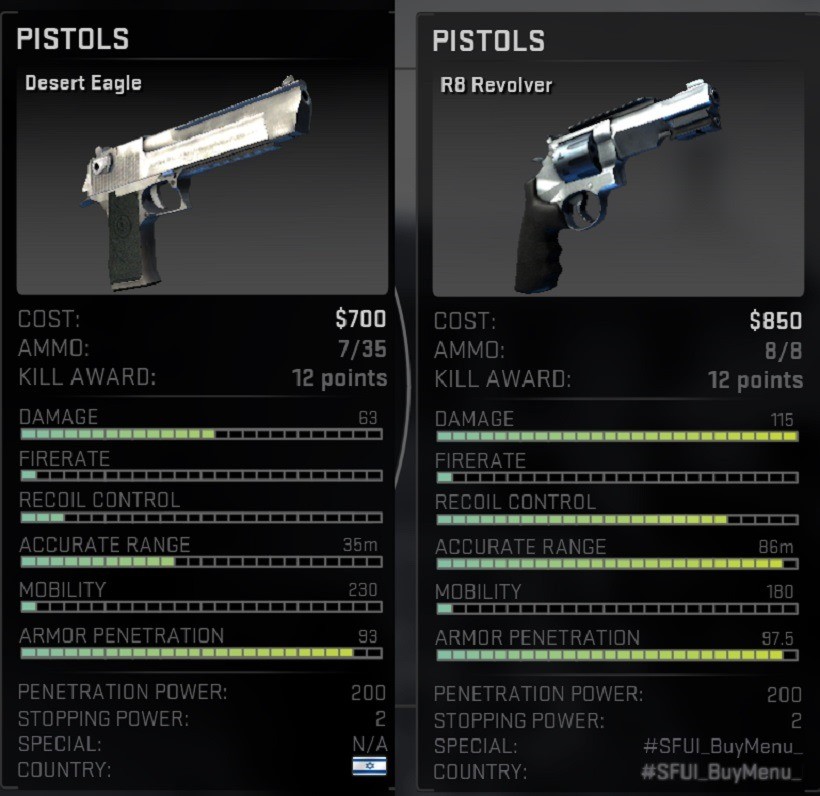 Comparison of the Desert Eagle and R8 Revolver
The other gameplay changes are focused on the inaccuracy of pistols while moving. This will make for much more static pistol rounds as accuracy while moving made rushing tactics favourable on economy rounds and pistol rounds for Terrorists in particular. With this change we will most likely see the use of the Desert Eagle, or newly added revolver on economy rounds promoting static holds for both Terrorists and Counter-Terrorists.
Most notably for rifle users, the recovery time will bring back the burst and tap mechanic which some of the old school 1.6 players will enjoy. Now short bursts and taps at long range will favour the spray down as recovery is increased, promoting more accuracy.
As Trevor said, the Revolver will more than likely receive a "nerf" in the upcoming weeks – but for now go wreak havoc.
Last Updated: December 9, 2015