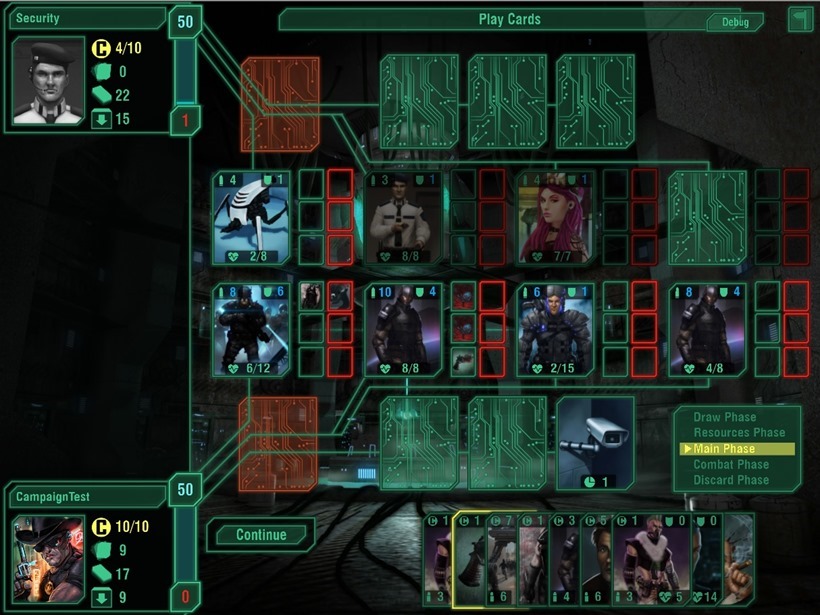 Believe it or not, Hearthstone is the first card game I've ever been fully consumed by, and that only happened around five or so months ago. It's quite surprising I took so long (literally decades) to get into this sort of game actually, considering that in my primary school days, Pokémon TCG was all the rage, and in high school, Magic: The Gathering. Despite being exposed to those both quite excessively, I just never found the idea of playing cards that interesting.
Well, look at me now… I'm a regular little Hearthstone addict! Truth be told, it has become a bit of an obsession (Dota 2 is that you?).
Anyways, we're not here to talk about my problems! The point I'm trying to make is that I feel like for the first time in my life, my eyes are now open to card games in general, which is why System Crash  from local developers Rogue Moon Studios has garnered my attention. Here, take a look see for yourself…
System Crash is a story-driven cyberpunk collectible card game inspired by Blade Runner and Neuromancer. When corporations own everything and the line between man and machine is blurred, your only option is to fight to survive!
Face challenging opponents from corporate security forces and automated defense systems to street gangs and bounty hunters.
Cunning AI will probe your weaknesses and test your strategy.
Recruit agents and equip them with Black Market weapons and cybernetics. Experiment to discover powerful combos.
Build your deck from more than 100 exciting cards to choose from.
Play through an exciting story campaign. From the streets of San Angeles 2150 to the towering corporate arcologies.
Interact with cunning hackers, ruthless mercenaries, scheming executives and deadly assassins. When everyone has a price, who can you trust?
You may notice that System Crash has only been Greenlit, and has no actual release date. It'll be out on Steam sometime in the near future, but if you'd like to play the game now already, it can be purchased straight from the website. it costs $14.99, and will come with a Steam key once it's released on that platform.
What I really like about System Crash is that it has zero microtransactions. For $14.99, you get every single card the game has to offer (unlocked via progression and such), which is pretty neat.
I think it looks interesting. What about you? Would you be keen to try System Crash out?
Last Updated: April 29, 2016