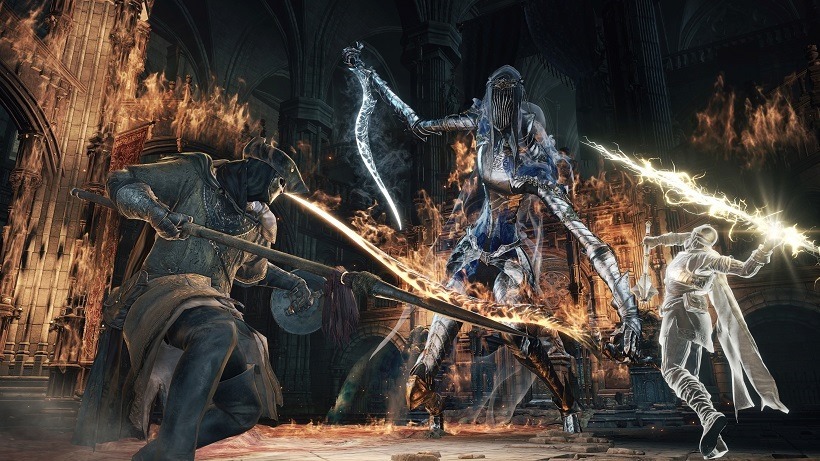 Dark Souls III has finally made the big journey over to the western world, and is sitting firmly in the laps of avid fans globally now. It's supposedly From Software's last take on the franchise, with creator Hidetaka Miyazaki looking to move on to something new soon. And it shows in the game's launch trailer, which exudes the idea of the series coming full circle with its third entry.
It's also a trailer filled to the brim with looks at some of the biggest, baddest enemies you're likely to face, which should be a word of caution to those wanting bosses to be complete surprises. Dark Souls has always prided itself with exquisite enemy design, and From Software really went to town here. There's so much attention to detail that it's almost sad that you can't just sit there and admire the colossal beasties before they ground pound you into oblivion.
There's also an inescapable sense of the tale that started two games ago finally coming to an end, with the trailer driving home just how lonely and perilous the journey of your hero. Dark Souls' world is teetering on the brink of collapse, and it's stirred the most powerful beings known to the series to try and keep things in balance. Ash seeketh embers, and a throne lies empty in the distance waiting for a new ruler.
Dark Souls III is meant to answer many of the lingering lore questions that fan theorists have been pondering over for years, and reviews seem to indicate that they won't go unanswered. It's good news for the lore obsessed, but thankfully dark Souls III also seems to be the most polished in terms of combat and world design yet – which I've always found its most engrossing attributes.
We'll hopefully have our own review up for your eyes soon. Dark Souls III is out now for PC, Xbox One and PS4.
Last Updated: April 13, 2016