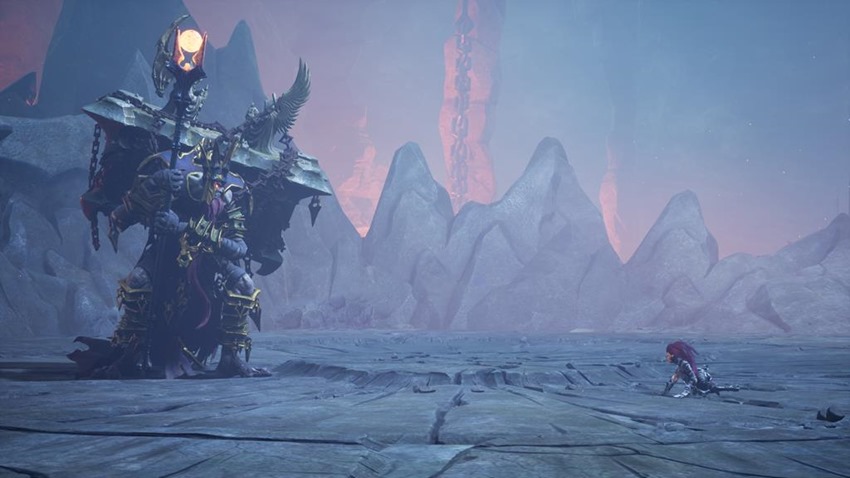 It may have been a derivative clone of The Legend of Zelda upon release way back in 2010, but holy heck was the original Darksiders a fantastic derivative clone of The Legend of Zelda. Taking the best elements from Nintendo's dungeon-crawling franchise, ramping up the combat and stylising it in a way that only superstar comic book artist Joe Madureira could, Darksiders was a chunky and meaty engine of destruction to experience.
Its first sequel wasn't too shabby either, as THQ's swansong to the gaming industry featured a more agile and quicker dealer of pain in the form of Death as he brought his signature scythes to the battlefield. Fast forward a few years, and THQ Nordic now holds the reins to the horsemen of the apocalypse. There's a new harbinger of the end times on the war path, and her name is Fury.
IGN got to play several minutes of the game and take some captures of it in the process. Check it out below for some action that looks like a THQ-branded movie about quick cars and familia. The Fast and the Fury-ious:
Looks like classic Darksiders action right there! While Fury has more range than her brothers and her own arsenal of weapons to choose from, I'm kind of glad to see that enemies now have actual health bars which you can hack away at. See, I've always loved the meaty depth of Darksiders' gameplay, but knowing exactly how much damage to dish out and when to throw more resource-heavy special attacks out was always a weakness of the series.
That little addition right there, is going to make a world of difference to the combos that players can throw out. In case you missed it, Darksiders 3 now has an official launch date of November 27 for PC, Xbox One and PS4.
Last Updated: July 12, 2018