A journey into the Darkwood is never a good idea, but you don't have a choice. Grab that nail board, a welder and make it home before dark, comrade.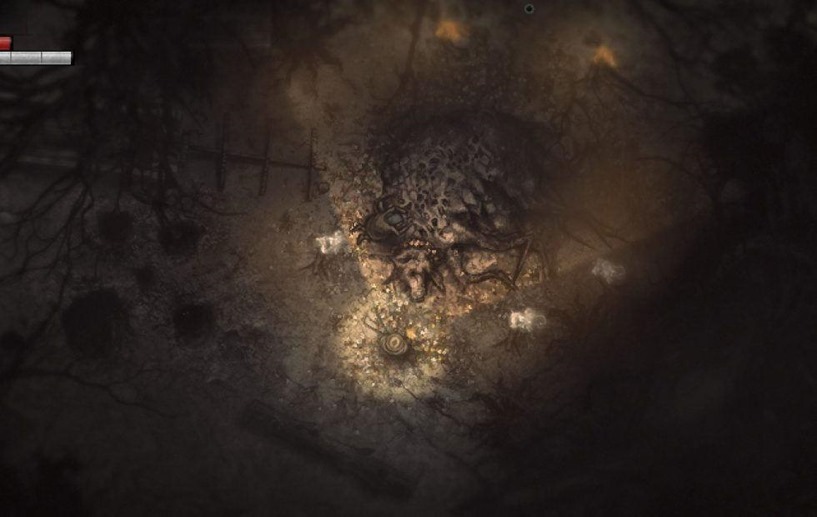 Choice is such a huge part of game design that I think most players don't even notice it. I'm not talking about mechanical choice where the player has to "Save the World" or "Kill Everything", I'm talking about the small minute-to-minute decisions that keep players invested in a game. Should I reload now or later? Is this upgrade worth a valuable skill-point? How should I get to the next objective?
These are all decisions we make constantly, even if they're as simple as choosing a racer in Crash Nitro Kart. What I also think is good game design is when a studio makes the player consider all of these little decisions, rather than just the big plot-based ones. That's where the detail lies, where the experience transcends the penned script and becomes your story, and so far Darkwood is one of the few games that's maybe me excruciatingly aware of every in-game decision I made during my time with it.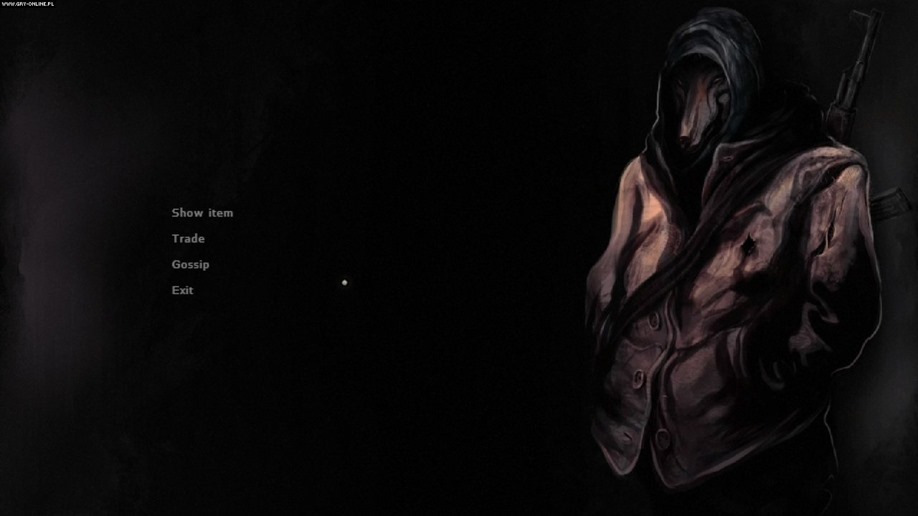 A top-down survival adventure game, Darkwood tasks the player with escaping the titular forest. Except, your only key to freedom is stolen. And you've been tortured half to death. And the Darkwood is technically a living entity akin to some kind of Eldritch being that actively wants to keep your inside its leafy borders at all costs. I say it's a survival game, but that's not an accurate description.
Darkwood is a survival game in the way that most games that have enemies are survival games: You're trying not to be killed. Don't worry about water, food, sleep or any other stuff that a parent could easily scold you on. Instead, worry about the increasingly paranormal forest creeping every closer to you, doing it's best to throw whatever it can to stop your progress.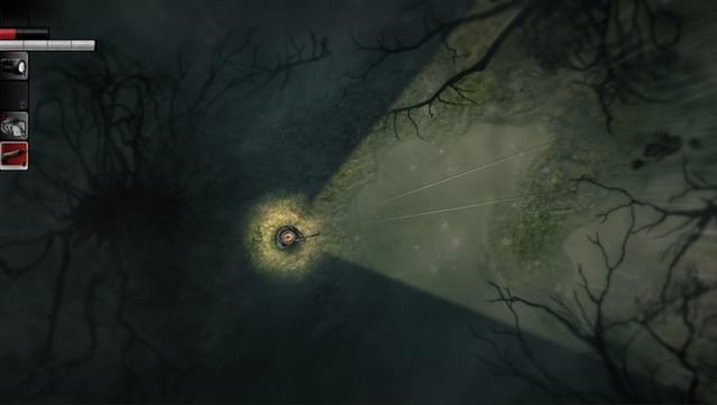 You scavenge for supplies sure, and in that way, I suppose you could include "survival" as a mechanic. This salvage goes a long way to boarding up windows, crafting crude weaponry or even traps to slow down the terrors of the night that will be assaulting your crumbling haven every night. Darkwood really captures what it means to be afraid of the dark. While games like Dying Light and Alan Wake tried to make you fearful of the night, I never thought they quite pulled it off for one reason: I always knew what was coming for me.
Over in Darkwood, as soon as your 1987 Casio wristwatch bleeps "20:00" the world outside of your room goes black. You never see what's out there, and you never find out what's causing your doors to open and close by themselves. Bugs will begin to swarm across the floors, skeletal crows break down the door and all you can do is hold them off until morning. The Darkwood cannot be fought, because there's nothing to fight. It's everything; The enemy is every enchanted root, branch and elk. It's the Blair Witch solution to horror: Never show the monster and let the audience use their imagination.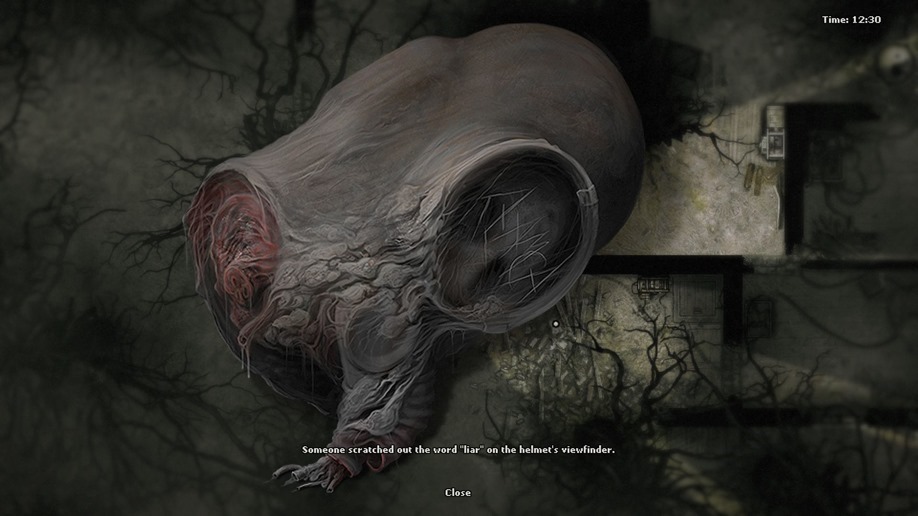 Darkwood is a challenging, punishing game. You're limited on health and stamina with a small pool of dwindling resources. Combat is about spacing and movement as much as it's about watching how much energy each swing will use. It's not complex or specifically deep, but it is satisfying. Weapons connect with the skulls of mad forest dwellers with a satisfying "thunk" and guns crack with a powerful yet fleeting bang. Your enemies will take far longer to kill than yourself, but you can do it. Weapons need to be properly maintained to make it out in the Darkwood, or just survive the night.
Maybe you'd rather just wait for them to walk over your river of bear traps? If you die, you'll be stripped of half your salvage, warranting a corpse-run to try and recover any valuables dropped, as long as you're more prepared to stop the thing that did you in. The game is bloody and brutal, forcing you to adopt the brutish life the Darkwood craves from you, much like it's more sane inhabitants.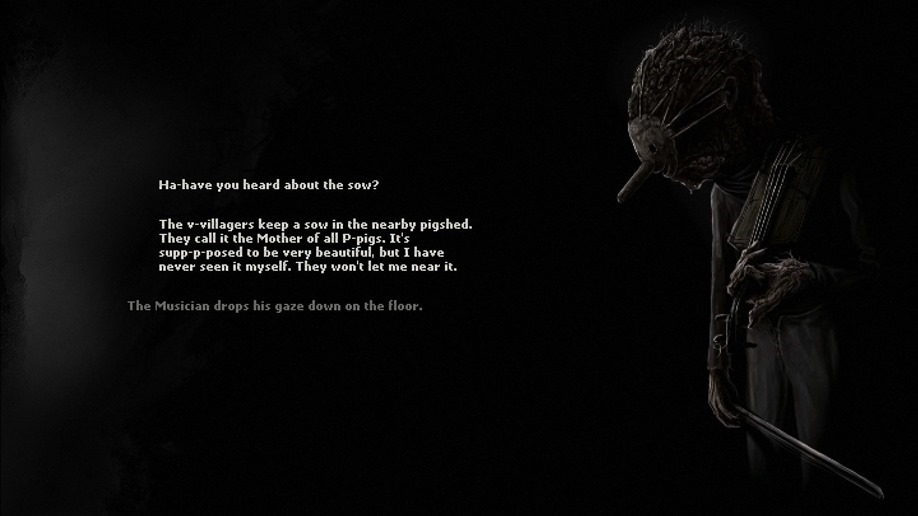 Throughout the story, you'll come across a series of twisted, off-kilter characters providing useful quests and assistance to you in your main goal. All creepy, all unhinged and all completely untrustworthy, Darkwood's writing is sparse yet incredibly effective. Each character is communicated purely through on-screen text, yet their voices were unmistakable, helped in no small part by the gorgeous art that accompanies them.
Be careful who you trust, your decisions will affect your environment and your story, so you better be damned sure the guy with a wolfs' head has your best interests at heart. They could all fit into a gallery of Eastern European horror without anyone questioning their validity. Seriously, there's some wild imagery in here. If you have a particular distaste for pork, I'd advise steering clear of The Village. Just as a helping hint.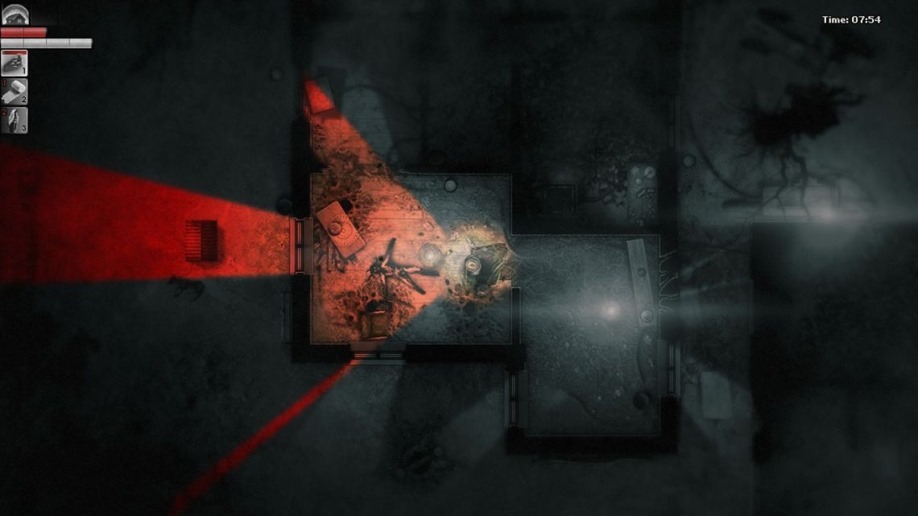 You know, reading back on this review I realised that I kept referring to the Darkwood like a character itself, and I'll admit I can't think of anything more apt. The environment is the star of the show here, despite the seemingly simplistic graphics every frame is painstakingly detailed. The way your coat billows when you run or the shimmering of the grass during the wind, or perhaps my favourite, the dark, blackened trees reaching out of the environment towards the player, almost like the forest is trying to drag you through the screen.
The sound design is maybe some of the best I've heard in a while, the random creak of floorboards or crack of a twig always making me turn around. You only have a limited cone of vision, so being quick on the turn is essential for staying alive in this hallowed and haunted place.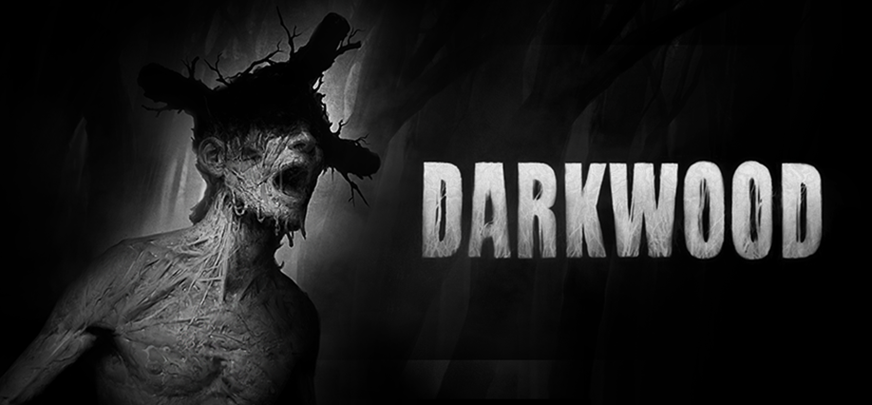 My only criticism of this port is that the UI could have seen some improvements, especially on console. I played it on PS4 and the text is incredibly small, forcing me to fiddle and tweak before I could eventually make out what was happening. This isn't too much of a concern for players on PC or Switch, your devices are no doubt closer to your face than your TV is to your lounge sofa.
Regardless of this small foible, Darkwood is a fantastic experience. An intriguing world that lets you fill in all the blanks yourself, a dire and difficult game of survival and a heart-pounding stakeout with the thing hiding just out of the corner of your eye, Darkwood is special case of a game that nails the feeling of desperation and despair in perhaps the most fun way I've experienced yet.
Last Updated: May 14, 2019
Darkwood

Terrifying, addictive and constantly engaging, Darkwood is a joy to play and begs for multiple runs no matter how scared you are

Darkwood was reviewed on PlayStation 4