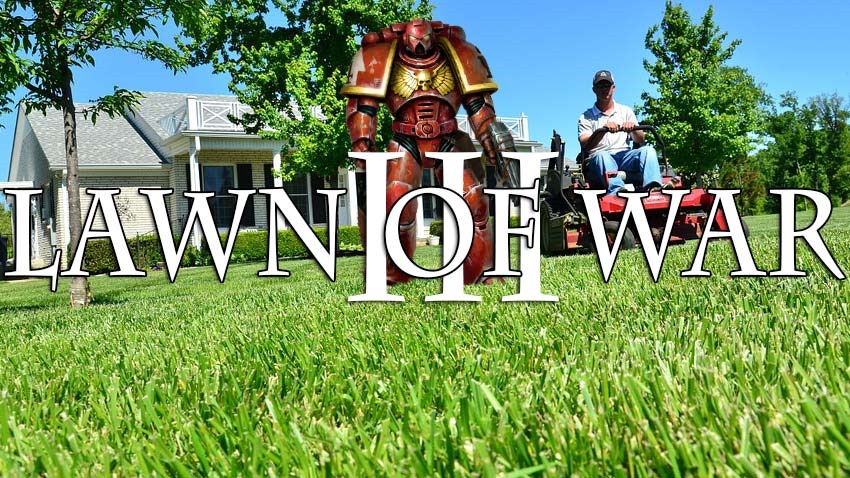 I've got a lot of love for the Warhammer 40 000 universe. Not the kind of love that translates to me playing the actual tabletop game that the franchise is centered on, but the actual lore and mythos of this series which is utterly fantastic. Tales of an Emperor who was struck down by his favoured son, of the gods of Chaos who wish to feast on life and the remnants of ancient civilisations stirring from their sleep to conquer worlds yet again.
All of which made for great fodder for the Dawn of War strategy games. In an age where the RTS genre is pretty much confined to PCs (barring the rare exception such as Halow Wars 2), Dawn of War has always managed to be a damn good slice of both strategy and action. Dawn of War III continues the fight, as Relic Entertainment and SEGA announced an April 27 release date for the second sequel. "We're thrilled to tell fans know that they don't have to wait much longer to return to battle," Dawn of War III game director Philippe Boulle said in a press statement.
The whole team can't wait to bring back Dawn of War, bigger and better than ever. April can't come soon enough!
As well as a nifty collector's edition that includes the following goodies: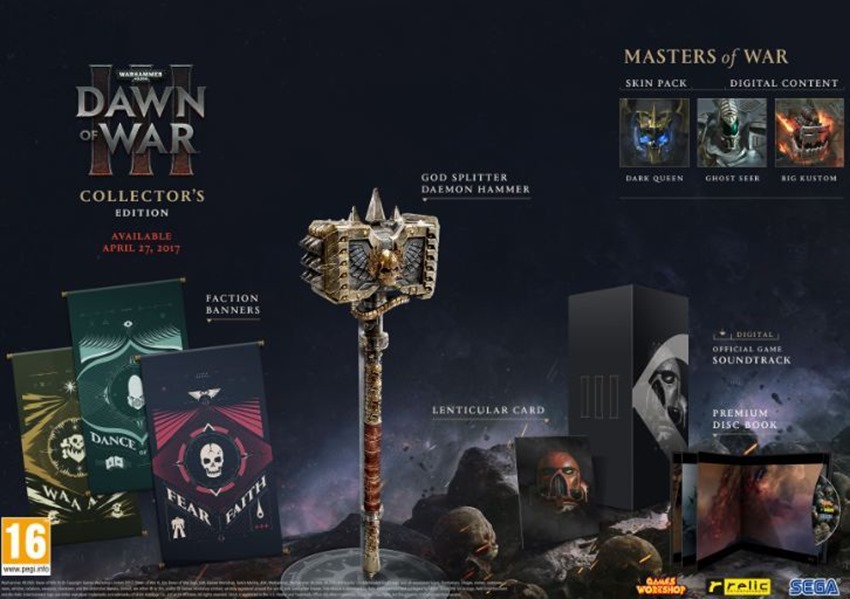 Dawn of War 3 game
Premium disc book
Lenticular art card
Official game soundtrack
Cloth faction banners
God Splitter Daemon Hammer scale replica (Not Grabthar's hammer, but good enough)
A limited edition will also be up for grabs, although you'll only get the soundtrack, disc book and art card in that version. Pre-orders also net some digital content for the in-game Super Walker Elites:
The Dark Queen skin for Lady Solaria (Imperial Knight)
The Ghost Seer skin for Farseer Taldeer (Wraithknight)
The Big Kustom skin for Beauty (Morkanaut)
It's been around eight years (give or take) since Dawn of War II hit PC in 2009, a sequel that was also years in the making and a direct connection to the 2004 original game when THQ was still a big player in the gaming industry. Fortunately the franchise survived THQ's disastrous attempt to put all their eggs into an ill-fated drawing tablet hardware launch that effectively hobbled the publisher, as Sega paid a cool $26.6 million for some of the assets that THQ began haemorrhaging.
But so long as Relic remembers to make Space Marine Juggernauts a force on the battlefield that regularly flash-fries those damned Orks with a flamethrower, I'll be more than happy to see if the long wait has been worthwhile. That, and I'm probably going to be yelling that everyone who beats me is a heretic. All of them. Heretic scum. FOR THE EMPEROR.
Last Updated: March 7, 2017