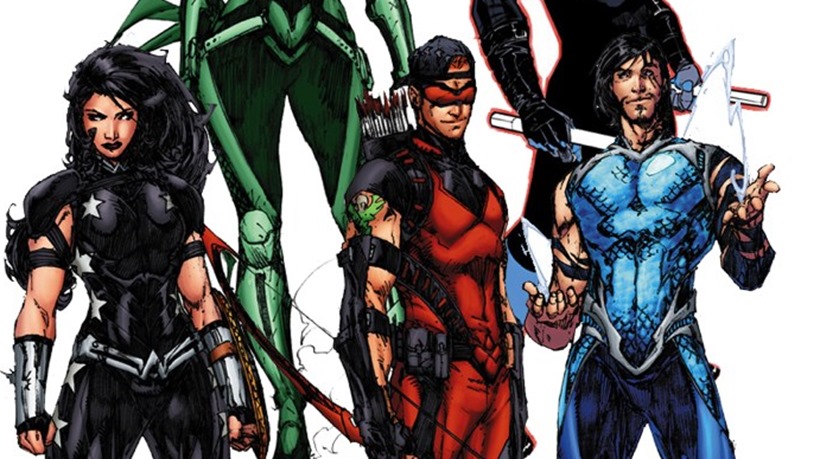 TITANS, GO!  Relax, because for once I'm not talking about Teen Titans Go (a cartoon that you really should watch because it's so damn brilliant), but instead about a team of former teens operating as Titans. See, there's more than just the Justice League or Batman's Outsiders group that's active in the DC universe. There's also the next generation of heroes, the Teen Titans. And the group caught in the middle, the Titans.
Usually made up of members such as Nightwing, Arsenal and Donna Troy, the Titans have been an independent group comprised of former sidekicks. They're usually the middle-card event, between the Teen Titans and the Justice League, handling the kind of danger that both teams are accustomed to. They haven't been massively active in the New 52 however. Dick Grayson had his identity revealed during the Forever Evil event, and assumed a new life as a secret agent in the Grayson series. Which was quite good actually.
Then Roy Harper was partying it up with the other, other former Robin Jason Todd and Starfire in Red Hood and the Outlaws. The Wally West of the old DC Universe was thought lost forever in the Speed Force, but he's also back for good as this year, the gang reunites for a new Titans series in DC Rebirth, appropriately titled Titans: Rebirth. Which means new costumes of course. Here's a look at what they'll be wearing according to artists Bret Booth and Andrew Dalhouse via Newsarama, while the ghastly ghost of Joan Rivers wails from limbo. Whoooo are yoooouuuu wwweeeearrriiing…
I quite like it! It's very much a better update of classic costumes, and it's always fun to see the dynamic between the other DC trinity of Arsenal, Nightwing and Donna Troy play out. Titans Rebirth kicks off next week, while this week sees the debut of Wonder Woman and Flash Rebirth issues. And so far, the DC Rebirth is off to a strong start.
Last Updated: June 8, 2016