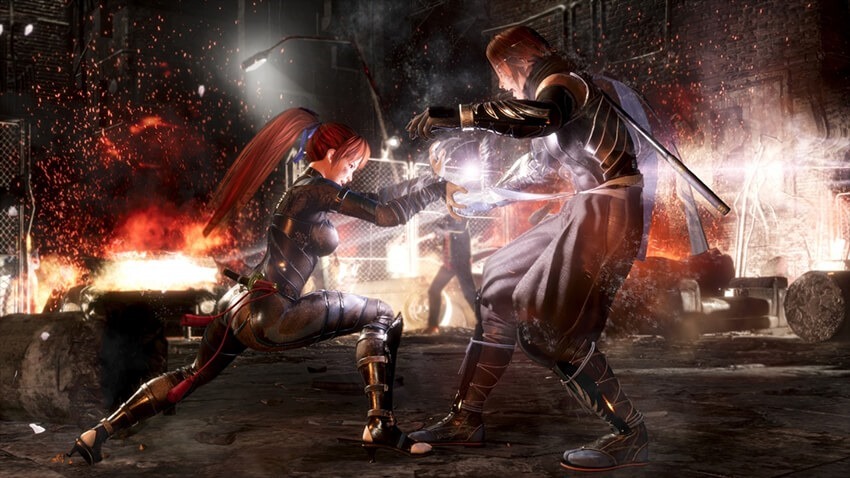 Dead or Alive (the fighting game, at least – not the beach paradise twaddle) is actually a pretty damned good game series, even if it has become known more for its overt sexualisation rather than its gameplay. I've always had a soft spot for Team Ninja's Dead or Alive fighting game franchise, but not as many soft spots as the game's female characters have had. For the next game, they're toning the jiggly jubblies down.
Speaking to Gameinformer, Dead or Alive 6's director Yohei Shimbori said that they were toning down the game's sexuality, and putting actual fighting at the forefront.
"This is a work in progress, a prototype, so we might change in the future," Shimbori said. "For this version, we still have Kasumi with her previous costumes, and there are some parts that are going to jiggle or move, but we want to make it a lot more natural. That is one goal, to make movement very natural. Also, each character has a very strong personality and we want to emphasize that."
Right now, they're aiming for it to be a more mature fighting game with a natural bit of bum and breast waggle, instead of the overemphasised stuff in games past. That said, that may change with DLC, and if people really, really want the game to be a sad masturbatory aid, then so be it.
"Of course we're going to tone down at this point, but for downloadable content, we have to see what gamers really want, what their response is. Not all the gamers want the same thing, but we want to ask their opinions, all of them, and get feedback on it. Having said that, Dead or Alive 5: Last Round, we put [sexuality] on the front line and used the soft engine for that. And actually, we're reflecting on that… maybe we did a little too much. Of course, we will have some jiggling and some movement, but as a whole we're going to tone down.

"To sum it up, this is going to be going for a very cool, mature look compared to the other games. Also, very natural, not just for the characters, but for the stages, backgrounds, renderings, and everything that we want to make very consistent with a mature, natural look."
Dead or Alive 6 is coming in 2019 to PC, PS4 and Xbox One – and I hope to Ryu that they bring the tag team fighting modes back.
Last Updated: June 19, 2018