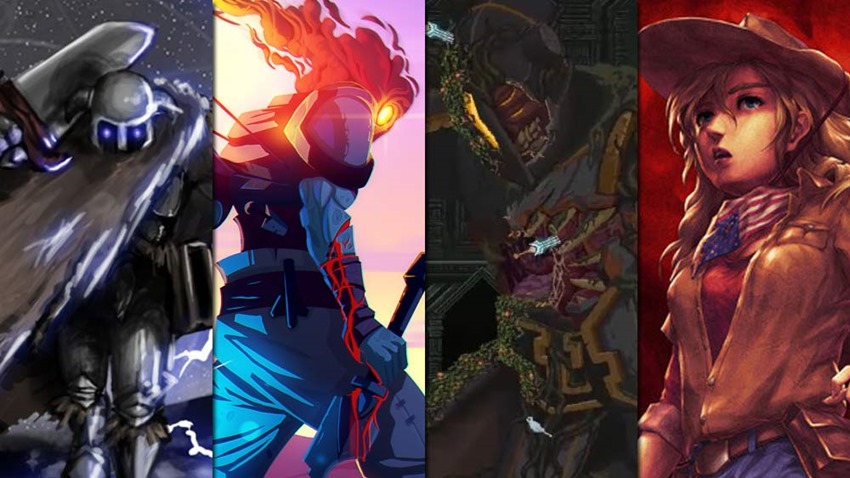 Metroidvania. It's a genre which evokes a certain sense of familiarity and imagery in the mind of anyone that's familiar with the term. What began as a dig against the sublime design of Castlevania: Symphony of the Night blossomed into a term that encapsulates the very best of this particular style of gameplay: Tight level design, focused combat and plenty of secrets to discover on multiple playthroughs.
August may just be the greatest month yet with which to dip your toes into that world, thanks to a smorgasbord of titles that'll soon be available to play. Got a console or a PC? Then you're pretty much good to go, as the following games will have you backtracking and stabbing your way across plenty of levels.
La-Mulana 2
Release date: July 30
Metroidvania meets Indiana Jones. The follow-up to the cult hit 2011 remake, La-Mulana 2 is one of those rare Kickstarter success stories that lived up to its own modest hype. Ruins need exploring, monsters need slaying and there's some sweet sweet treasure to be had in this stab at the genre which focuses on creating the most expansive levels possible.
Chasm
Release date: July 31
Do you happen to like your slice of dungeon exploring to have a random roll of the dice every time you start anew? Then Chasm might be just to your liking, as the indie darling combines a few prayers to RNGesus with some rock solid combat, precise platforming and a new challenge on every fresh journey back into its depths.
Iconoclasts
Release date: August 2
While Iconoclasts isn't a brand new release, its appearance on the Nintendo Switch this month feels just right. Metroidvania action with some actual heart and charm to its narrative, Iconoclasts forgoes the usual grim narrative of the genre and instead focuses on providing an eye-catching art style that is sure to please, as well as several boss fights that add plenty of new flavour and spice to familiar gameplay ideas.
Salt and Sanctuary
Release date: August 2
Much like Iconoclasts above, Salt and Sanctuary is another game which already had its moment in the sun and is now headed from the PlayStation pastures to the Nintendo Switch. What makes it stand out from the pack? A very deliberate palette of dark aesthetics that provide some grim visuals that are still gothically gorgeous, brilliant combat and a challenge which is masochistic to say the least.
Dead Cells
Release date: August 7
Here's the big one! Thanks to an Early Access release on Steam last year, Dead Cells has fine-tuned itself into a beast of a Metroidvania experience. Using the mere trappings of the genre to construct its levels, Dead Cells is keenly focused on combat, death and rebirth. And brother let me tell ya something: That vicious cycle is damn good.
Death's Gambit
Release date: August 14
It's good to be bad! Taking place from the other side of the moral spectrum, Death's Gambit has a simple setup: Your protagonist is after immortality, Death can deliver it to you and all you have to do is slay several Guardians of the Realm and you'll be free from Death's clutches for all eternity. To do just that however, you're going to need to be surgical with your attacks, as Death's Gambit takes no prisoners on wasted opportunities and pushes players to be as precise as possible with their abilities.
Guacamelee 2
Release date: August 21
Spicy! Rounding up Metroidvania month is the best damn example ever made of combining the format of Metroidvania with a Luchador setup. The original Guacamelee was a frantic slice of Mexian culture and mythology, that earned rave reviews and graced just about every single platform under the sun after release. Guacamelee 2 doubles down on that format, but this time with even more ring-shattering action and tag team techniques across its co-op play.
Last Updated: August 6, 2018