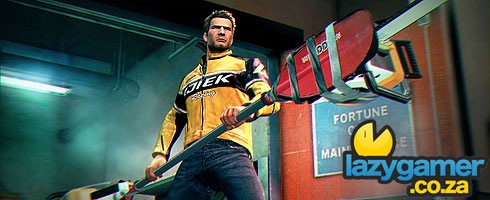 One of players' biggest gripes with the original Dead Rising – barring the ridiculously annoying Otis, of course – was the save system. One save slot, and a limited number of places to save, punctuated by a clock ticking down made the game a little more than just challenging. 
Personally, I think it was genius, adding an incredible sense of urgency. It was limiting though in that fact you had to accept the progress you'd made by the time you'd reached your next save point – or lose a whole lot of progress. Dead rising 2 will be different – but not too much.
Those of you looking for an easy ride, and maybe an auto-save system need look elsewhere; the game is still going to be challenging. The difference to the save system comes in that you now have multiple save lots, allowing for a bit of exploration and experimentation.
"There's nothing like auto-save in [Dead Rising 2], because we wanted people to decide on their own accord when to save and when not to save,"  said series creator Keiji Inafune to Kotaku's Stephen Totillo. "If you get into a situation where you choose not to save and you die, that has to be the user's responsibly. We wanted the user to make those tough decisions. That is why we kept auto-save out of the game."
Those who liked the save system in Dead Rising needn't worry – as they can continue to save like they did in the first game. "There were a lot of people who initially liked that system so we didn't want to alienate them."
I'm terribly excited to do more Dead Rising-styled zombie killing- this time with a co-op partner in tow. Unfortunately it's going to happen a little later than expected, with the game delayed until September 28 in the US and Canada, and October 1 in PAL territories.
Source : Kotaku
Last Updated: June 28, 2010